16 Jul 2017
Tabo visit & Welcome Tale!
#Tabo, a place of UNESCO world Heritage welcomed us during our trip with the little bundle of utter joy, fixed on her father's back. Very carefully and beautifully he had carried her folded in a shawl- the ends of which were in his hands only. While one hand of hers was free as you can see in the pic. The other end held his father's hand. She must be few months and spoke nill in words to us but she had a charm which attracted most of us in the group to come near to her. If nothing else click them. And this man only knew #Spiti language. He spoke to us through smiles and laughter. He's a dude of his kind…humble…satisfied. He spent some 15 minutes with us and went on walking up the hill to reach his stay. This was the best #welcome of ours in Spiti. A grand welcome. 
😊.  
– Travelled from June 23rd to July 2nd 2017 to Kinnaur Spiti.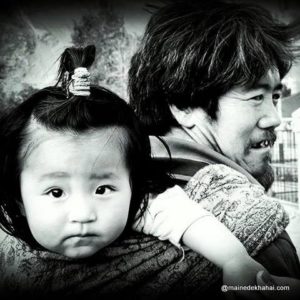 #Unesco #heritage #Himachal #travel #explore #father #daughter #Safe#hands