They say you reach where you are destined to and who and when you are supposed to meet someone, you do. A lot like that happened with me in the month of November 2022.
At first the yatra seemed more of a travel spree like you might have thought, however on deep diving I got to read and understand the roots of its existence, the opportunities it could provide and the network it could facilitate me with, to create with people in India and Globally. The Network of people who think of Atmanirbhar Bharat and Atmanirbhar Self, who believe in entrepreneurship and who come from various walks of life.
As much experience I have of life, that much has made me understand that Life is all about you and the people in it which we choose to have a deeper and consistent impact time to time.
What is Jagriti Yatra?
You may read about it on their website www.jagritiyatra.com . In my words, the yatra is about self-awakening, facing challenges, opening up to strangers, eating what is served, living a life of minimalism, traveling like never before, checking on own endurance, it's about building tolerance, living with strangers who become what you make them in 15 days non-stop, seeing India in a way entrepreneurs have built it at a very big level, meeting like-minded people and becoming pals for life or being fortunate enough to find Co-founders of your own Start-up or a Start-up , the idea of which just came to your mind right on the yatra and much more.
What made me go on Jagriti Yatra?
One of the Alumni of 2041 Antarctic Expedition met me in the year 2022, who left me with the thought of applying for it and go as a Facilitator. I was curious and out of curiosity read about it and applied in May 2022. Post which I got to hear about the selection by end of November 2022.
Out of 22000+ applicants that year, 510 people were chosen globally and out of which 75 were facilitators and I was one of them.
I am someone who has Sales and Marketing experience of double-digit years and for the budding minds, small and medium enterprises becoming the Marketing support made me get interested to be a part of it. Getting selected amongst so many aspiring people gave a sense of achievement.
Role of a facilitator –
Facilitators were meant to bridge the communication and actions between the organisers and yatris (participants). These are experienced people coming from various fields of work and mostly in Leadership roles. The diversified group of people have to be handled by them during the 15 day yatra.
In 2022, diversification was assured. Individuals from 25 state of India and 14 countries were a part of Yatra, with 35% females and 65% males.
The Journey (Yatra):
A journey unique enough to start from West India and which ended in West India, moving the entire circuit of India.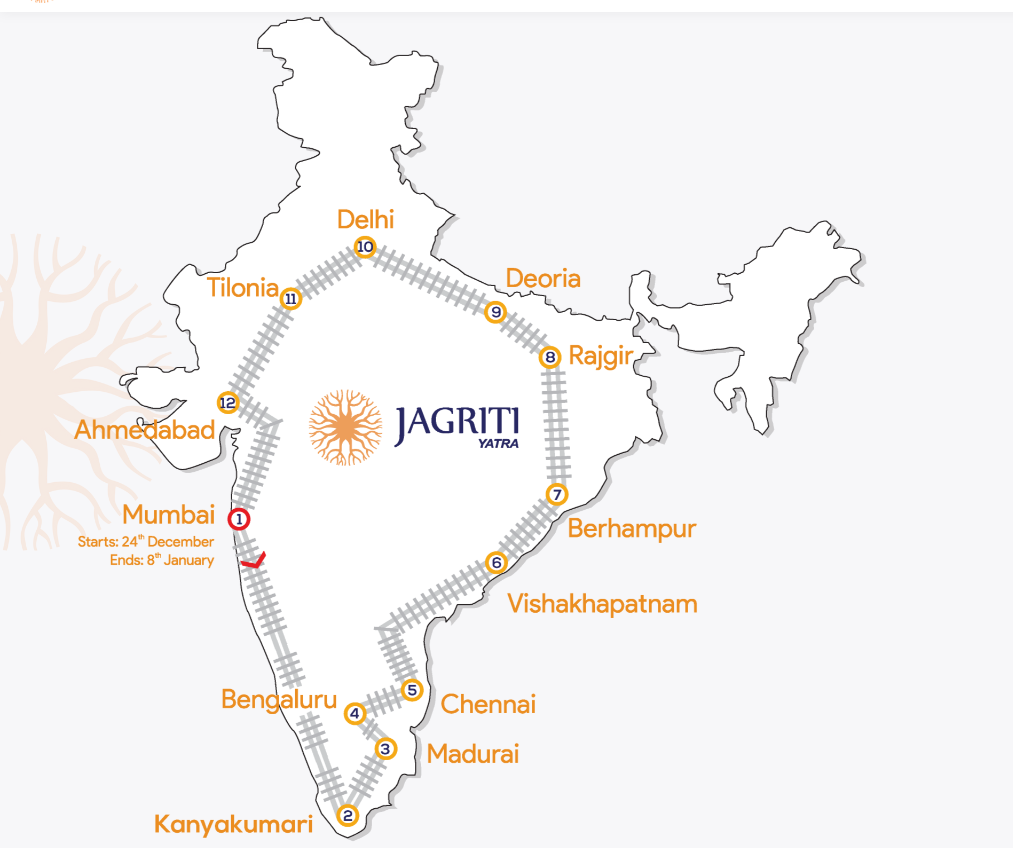 The train –
The train consisted of 19 bogies. Uniqueness about the bogies –
1 for the Pantry
2 for the bathrooms- male and female separate bathrooms. Creativity and Jugaad at its best
4 bogies for the females as per the below map, however there were 3 female bogies, so total of 18 bogies train.
2 chair cars for sessions during the yatra
2 for the Organizing team and Media
5 bogies for the males
2 for housekeeping /Staff
1 for Crew
The train each year is uniquely designed primarily with the support of Indian Railways.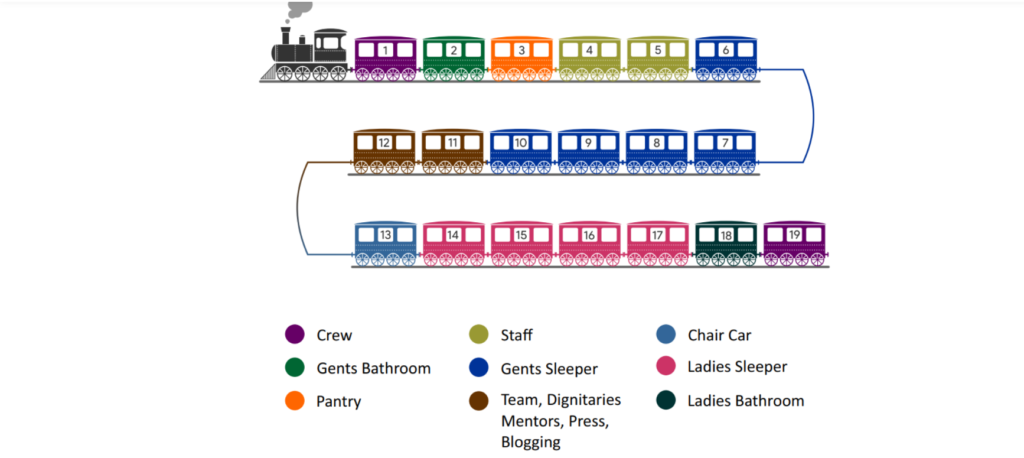 My Unique experiences –
1. An opportunity to come across 500+ individuals and embark on a train journey wherein I got to live with them under one roof and under very similar circumstances, be it food, basic hygiene or comfort of stay. I have lived in Hostel for years and even on a cruise with strangers for more than 2 weeks, however living in a train where there was zero privacy, minimalistic things to survive made me reflect upon my own self more than about others. Imagine living in a scenario for 2 weeks, which is 100% out of your comfort zone. Right from temperature of that place to sharing the space with strangers, so many of them that 15 days feels less to even have an introduction with and then how about the space that you are in is mostly on the move. Now imagine you sleeping everyday where your bed has vibrations and at the most you can sleep straight or at one side, the privilege to turn side while you sleep is unimaginable while you are in it. Such life was lived by us (Yatris, as they call it) and now while I look back, those days were the most challenge giving days which has made me assured about the way I can be adaptable, flexible, approachable and can be a better listener with each passing day.
2. New Year's Eve party at a railway platform – I am a low-key party person on a New years eve, not that I like to be under my quilt and behave as if it's a regular eve. Mostly I have spent and celebrated the eve through a house party. Known people, friends, good food, drinks and lots of dance.
The New years eve of 2023 was different. I had not imagined the start of the New year like this. After spending the entire day in a village at Orrisa understanding the life of villagers in that area, the developments, the challenges and possibilities, the early evening was at a school Gram Vikas, Vidya Vihar School, Gayaganda where in each one of us was welcomed by children with Namaste, who remarkably spoke Sanskrit words. There was so much cheer and positive vibes right from the entry gate that everything felt right. After grand entry the children performed outstandingly on the stage, showcasing culture of Orrisa and India. That evening would remain special, and those smiles took most of our hearts.
Post a splendid evening we reached Berhampur Railway Station where there we decorations with balloons and flowers. There was music and sweets. There were smiles and laughter. That night, most of us danced our most self and this brought the most unique New Year's Eve of life so far. I would say no surrounding, no stranger, no New Year's Eve has made me feel the way I was free, happy and in the moment that day.
3. Having food most of the days at the railway platform – Food is an integral part of our lives and while we travel, its further important to know what to eat. Food lovers travel to eat and for each person food holds a different meaning and emotion. As much what is important, that much where and how is important, isn't it! During this journey of Jagriti Yatra, most of our food consumption use to be in the train, where reusable cutlery used to be distributed to all of us and freshly prepared food use to be provided, however there were dinners, breakfast and lunches which were served on the platform and that was a very different experience of its kind. Managing food, serve to each individual and making a space on a railway platform where there were other people too would remain an unforgettable experience.
4. Sleeping on one birth for 14 nights, in a train – One was on mattress in a Village of Deoria District – Was asleep deprived while I travelled for 15 days in a train, NO. 14 nights were in the train and 1 in Deoria, UP. 1st 24 hours of the train journey was totally in the train and so slowly we got use to of the ambience, movement of the train, sound of the running train and tracks, the movement of the people in the train. The wind coming from the gap in between two bogies was one thing which had a long-time impact on most of us. Most of us caught cold, sore throat and fever.
5. Visit to Tilonia – Visit to a place which doesn't require any degree on the papers and requires real skills, common sense, real confident women with engineering skills, well spoken, intelligent, men who want to grow and stay in harmony was a treat of the yatra. The USP of the place is this that it has Bare foot college, founded by Social worker Bunker Roy. Tilonia is a mission driven enterprise building the business capacity and entrepreneurial skills of artisans' enterprises in rural India.
The best of handicrafts I have found so far was in this place. Flawless work at Tilonia Bazaar.
Solar Energy products are being best produced in this place and women of this place are spreading the awareness about the Solar energy products in the entire world. While many areas of the country struggles for basic requirement of energy, the people of this place are evolved enough to run their lifestyle in the best of the ways. So amazed and proud.
6. First Sneak out of the life – The disciplined person that I have been ever since my existence, skipping the not so required part was not my way. I was fortunate enough to be with younger guys who were impromptu, full of energy and had all possible tactics and push to make me sneak out from the routine. So, on this journey we went to 12 cities where we use to have day long activities and sessions. And there were some of them, which were better skipped to experience something better. Figuring out ways to escape had an excitement felt for the first time.
7.Hygiene – There came a time in few days when we started mentioning the train as our home, to each other. After a tiring day, the way we feel good to be in our brick house and a glance of it brings smile, a similar one was there every time we use to be back on the train after days of tasks. The train use to be cleaned from inside every day. We use to keep our luggage on the seats to assure cleaning of the floors completely. There were two bogies in the train – one for males and other for females which were converted in temporary bathing bogies. Regular washrooms of the train were our washrooms. Dustbins use to be cleared often.
8.Birthday like never before – The plum cake lover that I am had it on her mind as the Christmas arrived and New years was about to come. As we approached Bangalore, Aman arranged the cake and as soon as we had to cut it in the train someone asked whose birthday was it and he and rest of the group declared it was mine. It was impromptu to say that. That entire night and next day, people kept wishing me best and I even got handmade gifts. It was so special. Just that it was a created birthday and I would have smiled and laughed that much that day as my birthday! Me "Sasy Faci" as they call it had the best birthday ever.
Learnings –
Associate with brands – Brands look for association with different kind of events and if you are doing something which may interest the brand and can provide mileage then its great to reach out to them and share your offering. I raised sponsorship from 4 brands for this journey.
Uncomfortable can be comfortable – Comfort comes when we tell our minds to adapt and go with the flow. Sometimes, uncomfortable situations and phases bring the best out of us.
Life of Minimalism – 2 bags or suitcases maximum, per person had all the necessities for various kinds moving through different climatic conditions within India and we survived well. This made me realized how less do we need to have a living. Rethinking before we buy things is a great habit.
Less is more – There use to be limited water, limited food, limited medicines, limited space to sit together and limited time for so many activities and we had to make the best out of it. Half bucket bath, eating what's necessary (not wasting food), taking medicines when really in need, making space for those who we gelled with and investing time and energy in those activities and people are matters of setting priorities and being organised. If not much, it uplifted us to be better in both fields.
Sweetness of Diversity – The entire batch of 510 yatris were divided into groups and these groups had 3 sub-groups which were managed by facilitators, people having leadership experience in various professional fields (I was one of the facilitators). More about the group- the group was of people from different geographies, languages, countries in some cases and living style. My group had people from different states and one country other than India. From a female running her premixes business in Satara, Maharashtra to a female managing documentation work in Deoria to young energies of engineers, Voice over artist, designer, Startup Analytic, Artist, Students, People running family businesses in their own way, I from Media and Marketing background – we were a mix of people who appreciated the differences, broke the barriers to approach and have a candid conversation, learn from each other and uplift each other. We became a little family in a city of 500 +.
From sharing food to telling the secrets since we all were ears without judgement to having humans to care while we had fallen sick to assuring we are fed to taking each other's side to laughing together on silly stuff to telling each other how amazing the other person is to feeling secured sitting next to each other- we bonded well enough to cheer for the rest of our lives.
Be Prepared for worst – Making the list of things is the first step towards it. Pack light, however pack to the best when travelling on such a long trip. The most important thing on this trip was to pack right clothes and cover sheets. Since there was change in weather and it required appropriate attire and sleep time was crucial to maintain health, it becomes important to be prepared for worst conditions.
Keep Low to No Expectations – Often when we embark on a new journey or adventure, we tend to have dreamy thoughts. We create our own world of happenings. Keeping low to no expectations often surprises us and keep us go with the process. There are no disappointments. Easier said than implement, when you are practically involved in the process than emotionally, each moment is just to be grateful for.
Often, I am asked what did I get from Jagriti Yatra? I ask this question to myself various times. I gained self-confidence, I gained people's trust and I gained a community which believes in making their own empire, which may work for social development and economic development.
All of this no books, no online sessions could provide. While we lived in an environment, new for all, we found goodness in others as well we did surprise ourselves. I definitely did surprise myself various times.
This Journey of Mine was supported by Planet Ayurveda, which kept my health intact. Redtape who provided me apparel support, PeeSafe, assured by personal hygiene and Samarth Agrawal Books.