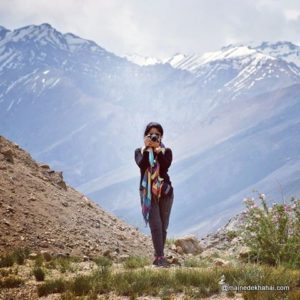 Julley!
Mountains, there is something about them which can be felt, consumed, absorbed, gathered, appreciated. Once you like them, you can't stop feeling them. In reality too, they look like dreams, a dream to be attained and creating further aspirations, always motivating. They keep healing you all the time. Each moment spent in hills, is a moment to treasure and admire for the future time.
Kinnaur and Spiti are those special regions in India, which are beyond any beauty in the country. They are actually not regions, they are experiences which can be explained in words and pictures only to some extent, it is only the experience that one gets by living the life in a unique manner in that far away barren, beautiful and outstanding land of the world which makes one realize the beauty of this world and importance of self existence.
Exploring Spiti Valley was on my mind since the time I came back from fantastic trip to Ladakh in June 2016. I kept reading about Kinnaur Spiti region, watched various videos and looked at available limited pictures. There were limited pictures, limited videos, limited blogs and limited tour operators. Though the content available online was limited yet surprisingly it was enough to attract to think of and plan this adventurous travel to this region.
Talking to local people, with whom I got in touch through a friend (whose friend belongs to Spiti), I got to understand that there is more to pictures that I could see on internet – the place is tougher, extremely barren, less inhabitant, vulnerable, with momentary change behavioral weather and roads are really tough and so after lot of discussions and thoughts, I concluded that the trip should be done with any of the local tour operators – someone who knows the area well and is responsible enough. The search of this tour operator was made by my friend, who accompanied me to Ladakh. Unfortunately she couldn't accompany to Spiti due to medical conditions. I missed her company, for it would have been great to have her. At the same time I made 16 new friends from different parts of the India and Srilanka.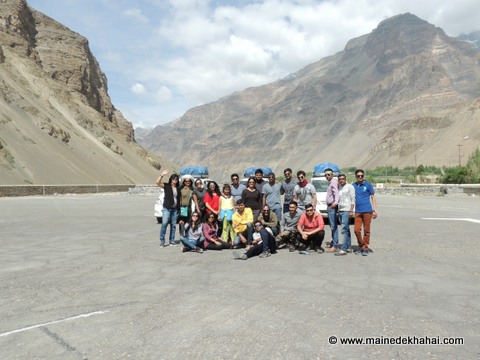 As the date to start the journey was coming closer, there were goose bumps and butterflies in the stomach. The mind didn't have much food for thought. The mind was getting excited to see the unknown and a journey was about to start where every moment there, was to come with a new destination. So a journey with innumerable destinations started on 23rd June 2017.
For some of us the journey started from Delhi and some started from Mumbai, Surat and Columbo.
A standard route for the journey was such –

| | | | | |
| --- | --- | --- | --- | --- |
| # | Route | Overnight | Departure Time | Travel Time |
| Day 1 | Chandigarh – Shimla | Shimla Hotel | 2:00 pm | 4 – 5 Hours |
| Day 2 | Shimla – Sangla | Sangla Hotel | 6:00 am | 6 – 7 Hours |
| Day 3 | Sangla – Chitkul – Kalpa | Kalpa Hotel | 8:00 am | 4 – 5 Hours |
| Day 4 | Kalpa – Nako – Tabo | Tabo Hotel | 7:00 am | 7 – 8 Hours |
| Day 5 | Tabo – Dhankar – Dhankar Lake Trek – Lhalung | Lhalung Homestay | 9:00 am | 2 – 3 Hours |
| Day 6 | Lhalung – Pin Valley – Kungri – Mudh – Kaza | Kaza Hotel | 9:00 am | 3 – 4 Hours |
| Day 7 | Kaza – Langza – Hikkim – Komik – Ki Monastery – Kibber – Gette – Kaza | Kaza Hotel | 9:00 am | 5 – 6 Hours |
| Day 8 | Kaza – Losar – Chandratal Lake | Chandratal Lake Camps | 8:00 am | 6 – 7 Hours |
| Day 9 | Chandratal Lake – Manali | Manali Hotel | 8:00 am | 7 – 8 Hours |
| Day 10 | Depart from Manali (Check Out at 12 noon) | – | – | – |
DAY 1- DELHI- CHANDIGARH- SHIMLA

The morning Shatabdi express took us to Chandigarh from Delhi in 3 hours and on Chandigarh platform Ram, our driver/ pilot for the next 10 days met us, greeted warmly and made us comfortable in Innova Car.
We drove towards the Airport to pick our fellow travelers coming from Mumbai. The wait was interesting. For me, this journey in Shatabdi started with my Brother. At the airport we were about to meet 4 unknown people. They're who, male/ female, young/old…. We had no idea and so our eyes were looking for the first unknown destination. For the people you travel with matter more than the place (a friend says so and I believe in this), coming across the very first destination – 4 energy filled, vibrant, charismatic and enthusiastic ladies from Mumbai..we met at the Chandigarh Airport. Vibes matter..and this time with those strangers the vibes matched positively in minutes. In another few minutes we knew each other's name, place we are coming from and also the last place we travelled to. Another hour made us exchange the reason for why have we chosen to travel to Kinnaur Spiti this year.
We had our own reasons, but we were moving through one way reaching one common destination at a time. Then, we were a team of 6 in one car – with hopes, energy, and vigor for our dream journey to Spiti Valley.
From the airport we were to go to Shimla via kufri and have a night stay. On the way we visited Pinjore Garden, a Mughal Garden, which is at the outskirt of Chandigarh in Pinjore City. It's a place famous for family outing, where evenings bring beautiful lighting shows and day brings view of colorful decorative flowers. There were options of camel ride within the garden and toy train for kids, an ultimate family destination.
We took about 4 hours to reach Shimla and the very first Sunset in the hills of this trip was waiting for us and treat us on the very first day of the trip. We saw the hills and city of Shimla melting in orange colour and it was quite heavenly.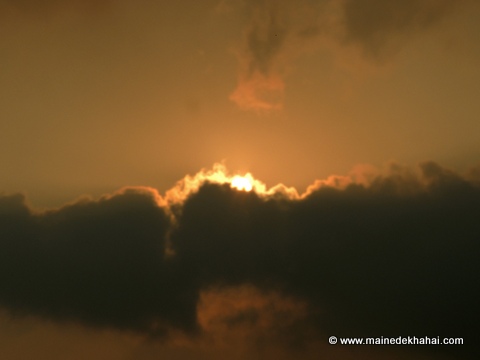 We saw slow moving, red and yellow colored toy train for the first time. And we became kids for sometime who were waving hello/goodbye to the train and watching its movement while it entered in the tunnel. Small joys of living.
In the month of June, it was chilling in Shimla. And we were loving it, after the hot days of Delhi and humid days of Mumbai.
We stayed over that night at Shimla.
DAY 2- SHIMLA- SANGLA (8900 Feet)
Early morning at 5 am, my phone rang. I had put my phone on full volume and the sleep in the hills was so deep that the sudden ring woke me up in surprise. The voice said "Good morning, this is Sandhya it's time to wake up and get set to start the journey to Kinnaur". For some time I thought I am in my dreams but no, it was real. Our tour operator actually made us get up at 5 am. In an hour we were all set to reach Narkanda and feed our stomach.
Here we met another 6 travelers (boys), a part of our group from Mumbai and Surat this morning.
Narkanda is a small place at the outskirt of Shimla, very famous to have peaceful stay in golf area. On the way to Narkanda we witnessed huge orchards of Apples. In the pic, the white cloth that you can see is to cover apples. The valley was fully loaded with lots of apples. We had breakfast here and another 6 travelers from Srilanka and Gurgaon joined us from here. So from Narkanda we were 18 travelers, in 3 cabs and of course 3 drivers.
Via Jyuri, where we had lunch we were on the way to Sangla.
This Place Sharma Bhojanalay was where we had lunch. We were 18 + 3 drivers and the space was limited to serve, yet the host did their best. It was pure veg eating joint. The food was simple and tasty. Daal, roti, sabzi and rice and rajma was the savior there. But then we had one person in the group who had to have non veg or atleast an egg dish. We requested the owner. At first she denied. Then she did special arrangements at her house and got egg bhurji prepared specially for our friend, Khushneen. It was very kind of the owner to take care of such requests. She explained that since they are the only restaurant on the way and veg food is preference so they do not cook egg, etc in the kitchen of the restaunrant and they stood by it. At the same time she took care of the guest. That lady was from Jammu, settled in Himachal Pradesh and running this restaurant with her husband. One of the memories to keep with us… forever. #foodmemory

It was India- Tibet National highway we were moving on and the road cut which we had only seen in pictures was right there in front of us. It looked for a moment as if there was no further way and the beautifully crafted mountain to create a way for us was majestic to take a pause and have a look on the beauty that man created himself.
This way was a proof to be in Kinnaur, the flowing river Sutlej along us was another.
Further was a temple named "Taranga Maa Temple". Ram bhaiya told that it everyone who passes through this route visits the temple and that the temple and deity is of lot of importance, the savior. We crossed through dams and Baspa river power plants projects.

Then came this view point where we saw 5 mountains together forming one and the road cut as slit as possible. Standing there and admiring the beauty of nature was the least we could do.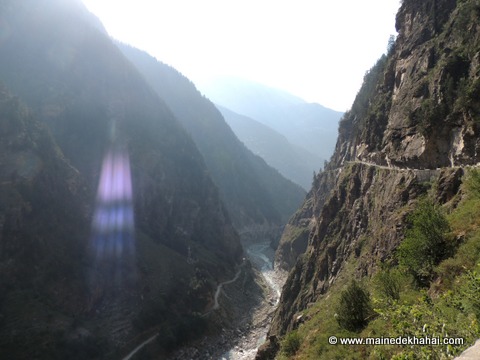 We reached Sangla by afternoon.
While we spoke to local people working at the hotel we stayed, about the places we can explore nearby, we got to know about two of them, which were not there in our itinerary. Those are – Sangla Monastery and Kamru Fort.
Though we were on a drive in the hills since morning, we were not tired to explore more. The Hotel check in was done and we started exploring Sangla and around.
We found a door, which must be thousands of years old. The quality of wood and iron design on it, shows how well it is surviving.
The fruits absolutely fresh and shiny.
About Kamru Fort-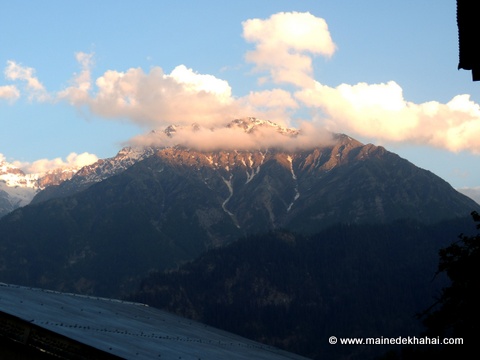 The Kamru fort is a quiet sentinel, located at a fearsome altitude of 2,600 m above the sea level. This place is at a distance of 57-km fom Kalpa and 229-km from Shimla, The capital of Himachal Pradesh. The nature shows off its existence and the splendor of this land. Along its sides rise snow clad mountains, thick forests of deodar trees, and lush green and richly fruited orchards.
The fort seems like being placed over packing of dressed stone that acts like a pedestal for an exalted piece of art. The tower possesses an elegant wooden balcony.
Standing at an altitude of 2600m above sea level, The fort is set in a picturesque location and is entered through a series of gates. At the main gate of the Kamru Fort, a stunning image of Lord Buddha greets you. The graceful wooden balcony, at the top of the fort, and the idol of Kamakhya Devi, installed on the third floor of the fort, are worth seeing. There are a number of interesting myths attached to the fort,
Kamru fort is located on bank of Baspa River and surrounded by some beautiful places Rakcham Village, Batseri village and Chitkul Village, Chitkul Village is the last village on the old Hindustan-Tibet trade route. Sangla Valley is the most charming valley in the entire District of Kinnaur and Kamru Fort is main historical place of the Valley.
In about 30-40 minutes we reached Buddh Temple and then further. The real fort gate was all open to welcome us. And at the very entrance was this board telling the rules to enter in the main fort area-
At the entrance gate only we met Mathru (the care taker of this fort) who gave us caps and a red ribbon to be tied on our waists. He said this way we would be giving respect to this place and its existence. It is a custom to do this before entering the fort area. After wearing the same we actually felt good and so much a part of that place. Aren't we looking cute!
The light pink and dark pink flowers further welcomed us.
The dark grey structure of fort was at our right and temple in front, on our left were benches and the backdrop there gave a majestic view of Sangla valley. It was serene and magical.
The old utensils and musical instruments were placed in the area, as if kept in the museum – in a tidy and artistic way.
There was some attraction this place had, which made us sit on the floor at peace for hours. We spoke less, smiled more. We looked around and felt lucky for the journey we were on was worth every risk we took to have a start.
While we walked back to the hotel, we saw the golden shining clouds at the peaks. This 2 km uphill walk was worth every effort. We walked to the monastery, which was closed since it was already 6 pm and the sun set had started. Yet at the monastery we could see the holy lit up diyas and the view, as always was peace giving.
We reached our hotel with hungry stomachs and that chilling night had one of the best sleeps in the hills. The morning was cloudy and waking up to this was so beautiful.
Day 3- SANGLA-CHITKUL-KALPA (12000 Feet)
We started from Sangla to Chitkul after breakfast. Distance from Sangla to Chitkul is 28 km. The way to Chitkul had huge rocks on the side. We stopped at flowing fresh water. We drank water, posed with it, played with it. The gushing water was sweet in taste and soft in nature. The Baspa river clear view assured us about reaching Chitkul. Here the birds flew high and sky was so damn clear, as if the childhood painting has come live where only the sky and the birds, flying birds are the theme.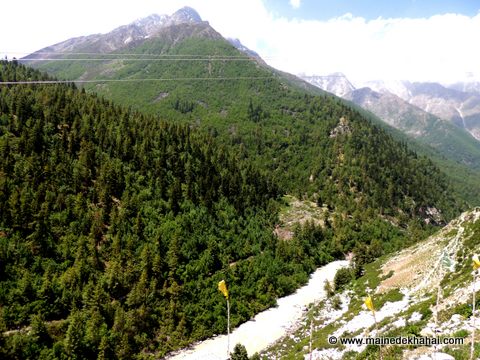 And there we were, in the last village of India – Chitkul
Chitkul is famous for being the last habitat village of India near Indo- Tibet border. Chitkul, on the banks of Baspa River, is the first village of the Baspa Valley and the last village on the old Hindustan-Tibet trade route. It is also the last point in India one can travel to without a permit. The extensive Nila range where the greenish blue baspa river originates, decorates India on one side and Tibet on the other. At a height of 3450 m, Chitkul is a perfect place.
Potatoes grown at Chittkul are one of the best in the world and are very costly.
River Baspa from top (where you enter the village) and from near and the way in between create the real magic to this place. We spent hours sitting at the bank of river, we played with stones, we posed and clicked each other and then after sometime we all settled at the bank. A time arrived when those big rocks were our sofa to lie, relax and rejuvenate. We kept watching the river, its flow, the beauty it carries, the calmness and at the same time the energy the river had. Our state of mind was nothing else but happy. We reminded ourselves that how lucky we're to reach down here to this place and gather the moments of calmness, serenity and solitude.
There are very limited cafes there. We found 2 and while we ordered maggi and coffee, they took some 40 minutes to serve it. We adjusted, since we were hungry and they have too many people to serve.
From Chitkul we moved to Kalpa via Sangla and Reckong Peo.
The drive from Chitkul shows the beautiful Baspa Valley. It was green and fresh and attractive. The trees were loaded with leaves and then there were trees without leaves, each holding the beauty. The dramatic cuts in the mountain to create roads are truly appreciable and wondrous. We kept clicking pictures since each time we found post card look of the nature.
Our drivers told us to start early from Chitkul since we were suppose to cross a area where pebbles and stones fall from mountains very often post 11 am and what we saw was so true. It was not the most dangerous road in the world,that one was yet to come. This one had to be crossed on time, so we acted as we were told. The river flowing through this way was muddy and the air, one could taste the dirt. Crossing through that hard rock way was adventurous in itself.
We stopped at Reckong Peo to have lunch. The place was small and simple. In the main market area we could see only 2-3 restaurants and we rushed in one. 18 of us attacked on food.
Post lunch we moved to a Monastery nearby. It was technically the first visit to a Monastery on this trip. The 5 minute walks lead to the place where I found these happy and hard working souls; so contended and smiling.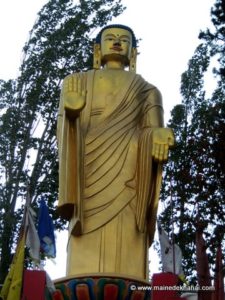 The monastery was under repair work. We spoke to the Monk in the monastery. We walked up to the tall idol of Lord Buddha and rejuvenated ourselves for that evening.
We were now moving to Kalpa, The heart of Kinnaur.
Kalpa – Kalpa is a small town in the Sutlej river valley, above Recong Peo in the Kinnaur district of Himachal Pradesh, Northern India, in the Indian Himalaya. It is inhabited by Kinnauris and famous for its apple orchards.

It was evening and the sunset was about to occur, by the time we reached our hotel at Kalpa.
Right in front of our hotel was the majestic view of Mt. Kinnar Kailash. But before we appreciated that, we walked down from our hotel and started walking towards a Village called Rogi Village. (Ram Bhaiya had told about this place. He said it's just 3 km from the hotel and is a village of its kind). So before it got dark we had to return to our Hotel area. We started walking and found these sheep and variety of flowers.
On our right were other village entries and on left was a deep valley. There came a point from there came a sound of engine. While we walked further we realized it was swirling air in the valley which was creating that sound.
It seemed the road has ended.
The road on which we were walking had a suicide point. The place was 1000s of feet above sea level. It was getting darker and crazy. We had walked a long way and going back from where we were was an impossible affair. There was no network in that area. After few minutes I got BSNL connectivity and I called our driver to come and pick us up, but his number was off. We didn't panic. We called the Spiti tour operator and they somehow managed to send car for us.
That day we couldn't walk up to the village area, but the half way walk was quite an adventure and a scenic evening walk in the hills.
Day 4 – KALPA-NAKO-TABO (12000 Feet)
Today we were to hit the region of Spiti and had to reach Tabo via Nako.

On the way we came across this bridge. You might wonder what's so special about this bridge. It's not only this bridge; all the bridges in this region are light. Hence at a time only one vehicle can cross. This has to be strictly followed and the drivers in this region are totally aware about it.
Like each thing, the bridge was also decorated with colorful flag, the wind spreading positivity around.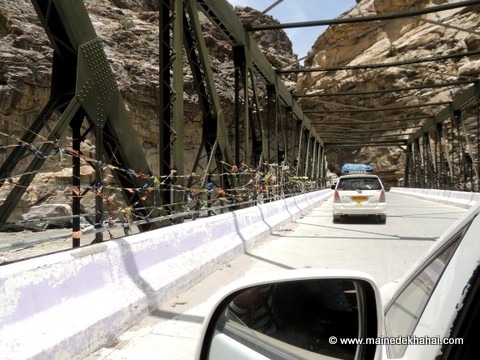 And that day was the day to travel on and experience the most treacherous road in the world.
Why treacherous- (I tried to research this on internet, but I couldn't find it!)
Its treacherous to my understanding because of the following reasons-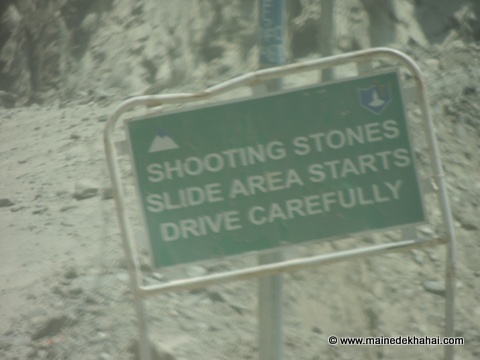 –The soil of the land is loose – Condition of the road deteriorates quickly on entering Lahaul. Soil is loose and keeps shifting, ensuring that freshly laid tarmac doesn't even last for a year.
–Stones and rocks keep falling from the top of the mountain
–It can't be maintained (Though BRO has tried their level best and have broaden it)
Overall, the Spiti Valley Road is one of the toughest adventure roads left on this planet. The road includes gravel and asphalt sections. It's terrible narrow, pretty steep and very dangerous, and probably more challenging than the famous Leh-Manali Highway. There are no houses, no people, no vehicles to give way to, or anything to remind of the world we have left behind. A narrow road barely good enough to drive reminds that they are still connected with the world, and also gives them access to the terrain that almost feels uncharted. Due its unique location and the climb in elevation over thousands of feet, and passing through remote areas, it is important when driving in these conditions to be prepared.
After rain, even a single rainfall, conditions of the road can be challenging. Adverse weather conditions can prompt closure of the road. Thunderstorm activity can quickly change unpaved roads to four-wheel-drive condition or make them impassable. Sections of the road are narrow enough to barely let a jeep pass, and any error in judgment would only mean tumbling down the valley and into the fast flowing river. Yet, there are hardly any accidents, thanks to little traffic and the drivers who are used to these roads.
While we reached the spot, which had this board mentioning that we were on the world's treacherous road, we got down of the car, looked around, looked at the road we were standing and looked up at the mountain, we looked at thee flowing river deep down and looked at each other.
The traffic on the road was scarce, there was mud in the air and though all we did was pose with this board, yet deep in our hearts, we were grateful that we were safely able to reach here and prayed for the further safe travel. This road which connects the remote part of Spiti with Kinnaur, the only way to get eatables and other needs, the same road was fulfilling our hunger for adventure, exploration and our love for travel.
The look of the cuts of the giant mountains, the curves and the rigidness, the toughness, the sharpness, the willingness to have a cut and give way and the vastness.
BRO is always on work here. Any natural problem and they stand to resolve it. That time, mining was going on and so we halted to few minutes and observed the criticality of the work to manage these mountains. Every time we use to cross a bridge, we use to have a unique kind of joy and anxiety and this time crossing the bridge was going to give an amazing view of the cuts of the mountains and some local people offering expressions and sign language talks. All we understood is that they wanted lift and we had no space to offer them any space. Yet they were happy to engage and get pictures clicked.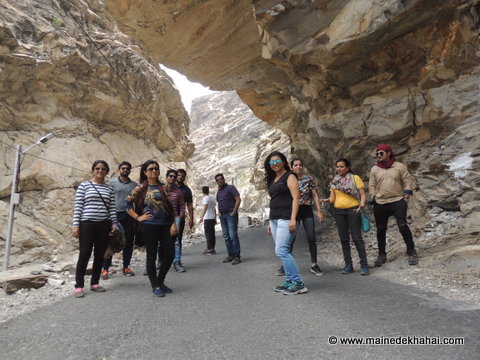 And 11 of us gathered for the first group picture, that time it was an initial step to bond and now its nostalgic to see these moments.
A simple hair pin road – There were a lot of times when the car use to get puncture, which was one major reason that all three cars use to move together, so as to help each other. The puncture use to happen due to pointed stones on the road and air pressure. This was very normal for our drivers and they were all prepared for it. That's what is getting repaired..men at work 😉
After this, we reached Nako for Lunch and to witness the small little village of Nako and its lake.
Another unique element about each village in Spiti is this that there is a helipad in each village. And this was the first one we witnessed. At the right to the helipad was the dhaba where we had the best noodles of the trip. Nako is at the height of 12014 above sea level.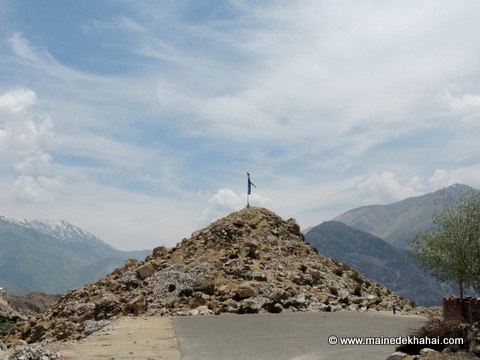 Also I have crowns in two of my molars and from the time we had hit this area, I had a sensation in my molars. It was initially bearable pain but with height it kept increasing. And it became terrible. I hadn't gone through such pain ever before. I tried regular pain killers but nothing worked. And I spent two days in pain till I reached Kaza and found one and only medicine shop in Spiti and after consulting my doctor, I did take the right medicine. Lesson of the situation is that if you have anything (even if it can be ignored) unusual then also one should carry the medicines along. It's a must. Another thing if you have got RCT or crowning done recently or years ago while to travel to place at so much of height you must consult your doctor before travelling. I did none and had to bear all the pain.
Post lunch we trekked inside Nako village to see Nako Lake. The very first view had history, scenery, colors, cleanliness and greenery.
On our way we met these naughty kids. Its enlightening to see how people with least technological support and so called development in cities, are happy and contended with what they have.
Nako Lake is a high altitude lake in the Pooh sub-division of the Kinnaur district. It forms part of the boundary of Nako village and seems that the village is half buried in the lake's border. The lake is surrounded by willow and poplar trees.  
We found large tiled stones with carving and inscription, each having mantras, For us more than the lake, the village view and its people were interesting. Even the animals had a different kind of shine in their eyes, like this cow which was pretty to watch.
And then this view for us became a photo click point. Most of us climbed up and jumped with happiness and flew for seconds and in frame for ever.
In my jumping pic even the cow participated 😛
And then finally on day 4 we were to enter the region of Spiti valley and the first stay was at Tabo.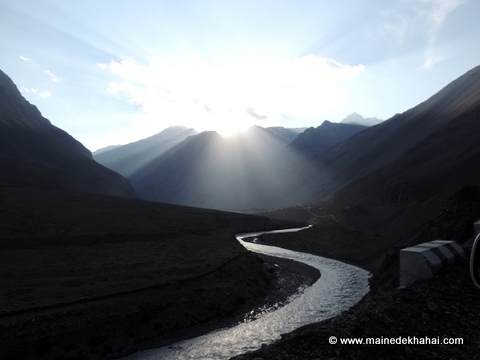 We reached Tabo when the sun was at its peak and everything around was shining, as if Spiti was welcoming us with its arms wide open.
We had a first view of buildings and Ram bhaiya told us that that's Government Senior Secondary school. Kids from various villages of Spiti come over to study in this boarding school. Such was a grand view for entering in the region of the world famous Tabo.
Each day in this travel brought a unique sunset view and this was magnificent.
We never had imagined that #Tabo, a place of UNESCO world Heritage would bring grandest welcome was to arrive and the moment our cars stopped, a tiny little cute baby nicely hung on her father's back was right there with her twinkling eyes and shining aura. Very carefully and beautifully he had carried her folded in a shawl- the ends of which were in his hands only. While one hand of hers was free as you can see in the pic. The other end held his father's hand. She must be few months and spoke nill in words to us but she had a charm which attracted most of us in the group to come near to her. If nothing else click them. And this man only knew Spiti language. He spoke to us through smiles and laughter. He's a dude of his kind…humble…satisfied. He spent some 15 minutes with us and went on walking up the hill to reach his stay. This was the best welcome of ours in Spiti… A grand welcome.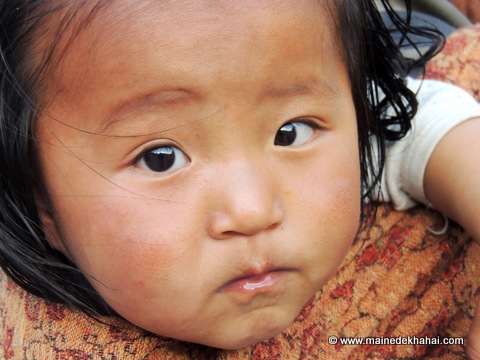 Tabo is a small town in the Lahaul and Spiti district on the banks of the Spiti River in Himachal Pradesh, India. The town lies on the road between Rekong Peo and Kaza. Tabo is of UNESCO world heritage importance because of thousands of years old monastery Tabo Monastery.
Places of interest in Tabo –
New Monastery
Tabo Monastery
Caves – Extraordinary and unusual Mud Caves
We visited the New Monastery that evening which was at walking distance from our hotel. After a tiring day, sitting inside the monastery was relaxing and peaceful. We walked around the Tabo monastery. Tabo Monastery has nine temples, four decorated stupas, and cave shrines. After walking around this place which was created in 996 AD, we looked up to those caves. The sun had almost set and it was about to get dark when we had a look on this beautiful crescent moon.
We decided to walk uphill and explore the mud caves where monks use to live. The caves were of different shapes, sizes and designs. We could see the entire Tabo from that point – white built in green background and surrounded by mountains. It was chilling walk to the hotel that day.

Very basic food is available in the region of Spiti. The best food we were served in Tabo.
Day 5- TABO- DHANKAR-DHANKAR LAKE TREK- (12774 Feet) –
Today we were to go to Dhankar Village and had to spend night at Lahlung Village. Before we moved there, Tabo monastery had to be seen by us in detail.
One of the best mornings and one of the best days we had in Spiti was in Tabo.
Early morning we made a point to reach the Tabo monastery.
Tabo Monastery is located in the Tabo village of Spiti Valley, Himachal Pradesh, Northern India. It was founded in 996 CE in the Tibetan year of the Fire Ape. by the Tibetan Buddhist lotsawa (translator), Rinchen Zangpo (Mahauru Ramabhadra), the king of western Himalayan Kingdom of Guge. Tabo is noted for being the oldest continuously operating Buddhist enclave in both India and the Himalayas. A large number of frescoes displayed on its walls depict tales from the Buddhist pantheon. There are many priceless collections of thankas (scroll paintings), manuscripts, well-preserved statues, frescos and extensive murals which cover almost every wall. The monastery is in need of refurbishing as the wooden structures are aging and the thanka scroll paintings are fading. After the earthquake of 1975, the monastery was rebuilt, and in 1983 a new Du-kang or Assembly Hall was constructed. The monastery is protected by the Archaeological Survey of India (ASI) as a national historic treasure of India.
We spent about 2 hour in the monastery. The soft spoken Monk there told us various interesting stories. One of the interesting thing is this that most of the paintings there are years old and untouched. Too much of flash was not allowed since it creates a negative effect on old colors, so I couldn't click many pictures, but here are some. It is the best monastery that we had been to so far on this trip.
Post breakfast we drove to Dhankar Village.
Height – 12774 ft. above sea level.
Above the village sits the local monastery – the Dhankar Gompa. Total number of houses are 68.
Dhankar Village situated at an elevation of 3,894 meters (12,774 feet) is at the perfect setting for any monument in this world. The monastery complex is built on a high spur overlooking the confluence of the Spiti and Pin Rivers – one of the world's most spectacular settings for a gompa. The monastery was built approximately one thousand years ago and now belongs to the Gelugspa.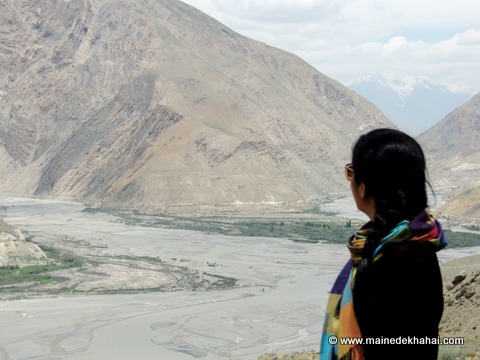 In recent years, due to the deterioration of the building, some sections of the gompa have been abandoned and a new gompa has been built further down. Meanwhile, the fort of Dhankar, destroyed by an earthquake in 1975, now lies in ruins, but is still a place worthy of a visit. From the remnants of the fort one can see vast expanses of the Spiti valley. Dhankar is also of art historical importance. Dhankar Monastery is recognized by the World Monuments Fund as one of the Hundred Most Endangered Sites in the world.
Before we hit the village, the confluence view attracted us very much and we couldn't stop ourselves to click the view and ourselves.
Things to do in Dhankar Village –
-Visit Dhankar Monastery
-Visit New Monastery
-Dhankar Lake Trek
There was one restaurant which was operational and so the first thing that we did after reaching there was to order food before we started for Dhankar lake trek. The restaurant was on inside area of the new monastery premise.
Dhankar Lake Trek – It is 3 km uphill walk. Just 3 km it looked, but we really had to sweat it out. But it isn't that difficult too. Once you have walked for 2 km and reached a point which says Lake to the left (you don't have an option to go right as you may fall in the valley 😛 ), the walk becomes easier. There are two reasons for the walk to become easy. One – the way further is less steep and second the spectacular view of the entire village that you will have once you reach this point is worth all the climb – The confluence in the middle, bowl shaped mountains, the helipad at the left, the monastery on the right – Pure beauty and bliss.
And then you tell yourself that now you have to reach the ultimate beauty of this place, which you get assured of, once you start interacting with the travelers coming back from the Dhankar Lake.
Well after that point too, it felt lost for some minutes wondering where the lake was. Now little bit of grass was visible with barren mountains at the backdrop.
There was this notice board at the lake side and trust me, everyone including us and others abide by each word and filled our minds with positivity, beauty and carefree moments. 
The very first view of the lake was its dry part. And for us it was the lake for few seconds till we found the real water stored beautiful green, majestic lake.
One stupa in this area beautifies this place further.
Sitting at the lake side and admiring the magic of nature is all we did. The moment we saw the lake, freshness had come back to our mind and body. All the fatigue because of the trek went away.
Here I am just adding some colors to this simple, peaceful and amazing place.
A peak can be found anywhere and right there at the side of the lake, I found these marvelous big stoned peaks.
We became child for sometime; the way we threw one stone at a time in the middle of the lake and everyone else kept watching the water eruption was enthralling and a team task, so to say. And the best one was this.
Have a look at a snow clad mountain followed by barren mountains and then a grass land with loose mud and a lake resides right there in between.
We spent about 2 hours at the lake side and had a peaceful, harmonious, bonded, joyous time.
The way to reach Dhankar Lake- The way was narrow and steep, as I mentioned earlier. Also the soil is loose, hence it does matter a lot what kind of shoes are you wearing. The shoes must have good grip, else not while climbing up probably but while walking down you might experience the slip. One of us did and was just somehow saved.
We walked back to the restaurant and hogged food, as if eating after ages. The trek made us really hungry.
Post lunch we visited new monastery and the orange coloured beautiful doors took away my heart for some time. Colors speak so much in hills and generate so much positivity.
Then it was time to see the incredible 1000 of years old Dhankar Monastery. The complex is built on a 1000-foot (300-metre) high spur overlooking the confluence of the Spiti and Pin Rivers – one of the world's most spectacular settings for a gompa. Dhang or dang means cliff, and kar or khar means fort. Hence Dhangkar means fort on a cliff.
A sketch that I use to draw in my childhood was right in front of me with land, river, mountains and sun at the top.
From Dhankar Village to Lhalung Village, each view on the drive was of postcard view.
And who knew, a stay in heaven was gonna be witnessed!
Lhalunga- The village has 45 homes is 14 km from the main road and is the largest in the Lingti valley
The name Lhalun literally means 'land of the gods' (lha = deities, devtas; lung = land, area) and it is said that the Lhalung Devta is head of all the Devtas of the valley and emerges from the Tangmar mountain beyond the village. This mountain is said to change colour depending on the moods of the devtas or deities; red showing anger, yellow, happiness, etc.
I had never stayed in a home stay. Hence I was curious and was wondering about it. We were welcomed by him while we started walking with our luggage to our home for that day.
And then the room was the surprise. We were tired when we reached the home and the moment we entered our rooms,, it was an 'awe' state. The green painted window of the room, with sunrays of the setting sun falling on the white bed sheet of the bed and brightening the chairs in the room too; it was such a welcoming feeling. The very first thing I did after putting down the luggage was to open the window frames and let the warmth of the sun sink in the room and me and I fully admired the little things in the room –from the flower pit to books to dustbin to the side mattress and sitting arrangement. Everything there was a 'wow'.

The house owner got us tea 'chai' and a click with the window was the mandate for me. The window became my favourite thing. That day watching the sunset from the room had a different view and the view from the terrace was totally different.
And the food..super homely. The chutney was the star of the dinner. Lal chutney they call it. It was delicious and added taste to the food.
Talking to Tashi, the man of the house was so simple and beautiful. We got to know their necessities and the way kids go to school. They are three brothers and one of them is serving in Indian Army, he was so proud of him. When it snowfalls and everything is snowy around they still live in the same house for 6 months and keep basic food including potato, onion, rice, pulse, etc in store. They manage life well and are so happy people. He had a pet called Churu, it's a hybrid between Cow and buffalo. Churu has been living with them since several years and produces good amount of milk for him. He served curd in dinner and the curd was made of milk of Churu. He asked us to name her and we all brainstormed and really did name her, guess what… Charulata. Now when you visit them ever ask Tashi about Charulata and he will tell you the tale. 😉
Home stays are for their own living but I felt that when you have warmth inside you and an open heart only then can you welcome unknown people in your own house and treat them well.
For most of us it was the first and an unforgettable home stay. The reasons are many –
-The room décor
-the view from the room
-the food
-the hospitality
-the emotional connect
-the freedom we felt
-peace
-and many more ….
The home stay name is Khabrik Home Stay Lhalunga, Spiti.
Day 6- LHALUNG-PIN VALLEY-MUDH VILLAGE-KAZA (12450 Feet)
Post yummy breakfast, we bid goodbye to our hosts and visited Lhalunga monastery. It  is one of the oldest found in the region. There is also a sacred tree here which may be as old as the earliest monastery.
People & Kids of Lhalunga
And then I met 'innocence'

Have you met innocence in a while,
And have waved a hello 
Have you got engaged with the innocence,
And brought her closer.
Have you shared a smile with her, 
And told the unusual tales.
Have you gone for a walk with her,
Saying nothing.
Have you heard each other,
To the best.
Have you hugged her tight,
And danced till you both got tired.
I met innocence Last to last week…
The curled hair of hers folded in mud..
Brought glory.
The over flowing nosy was cute to handle,
And short talks with her is all I have to remember.
We then drove to Pin Valley.
Pin is a beautiful valley in Lahaul & Spiti district of Himachal Pradesh; formed by Pin River that runs throughout its length, before merging with Spiti River. This valley is also the location of a wildlife reserve called "Pin Valley National Park". Though within Spiti, the ecosystem of Pin Valley is completely different than that of Spiti and its pristine beauty is quite fascinating. Wildly furious but majestic Pin River flows right through it, turning the entire valley in to carpets of green with snowcapped mountains rising in the background. Sunny weather, strong winds, miles and miles of isolation, stunning views, enchanting silence, colorful flowers all around, transformation from shades of a desert to acres of greenery; put this all together and you have a magical Pin valley to lose yourself into.
The mountains and their shape in this region was different from the rest, tall, muddy, rough.
We spent time looking at the beautiful view of the valley. We watched birds and mountains, river and vegetation, flowers and flags.
We also visited the monastery where we met Monks of various age and gender. In this monastery the feel was different. The monks had Ray ban shades and I phones – it surprised us, but that's how it is.
These 4 ladies stole our heart.  They were warm and gentle to talk. We asked them if we can click their picture and they hesitantly agreed.
The most hesitant was this dude out there. His name of Tenzin. He was supoosed to walk us through the monastery. He did his job pretty well and when asked for the click he shy away.
On the way back the dramatic mountains were adventurous to watch, it looked as if the mountains view was getting changed on a slide show.
Then we were to reach Kaza from Pin valley Via Mudh. We stayed in Kazaa for 3 nights.
We experienced light rain at Mudh. The weather so pleasant and view another post card place.
The valley is mostly virgin, serene, barren and beautiful. Mud Village in Pin Valley, over the years have become the base for tourist, travelers and backpackers. The very reason that you find many guest houses present at Mud Village and some under development for the coming year. The major reason being Mud village also acts as the base for trekking route towards or from Pin-Parvati Pass or Bhabha Valley.
The very entry to Kaza was out of the world and serene.
The very first place we went to in Kaza was Kaza Market. It is the only big market in Spiti region. From petrol pumps to medical shop everything is here ONLY.
(I have crowning in my teeth and I had severe pain in the teeth due to high altitude and air pressure from last three days, normal pain killer didn't work and unfortunately I was not carrying my tooth pain relief medicine, hence Kaza medical shop held very much importance. Though I didn't get the medicine which I wanted I got the alternate. This medical shop was a bliss for me and a big time relief.) Learning – one must always carry the medicines along for any kind of ailment while travelling to weird climatic conditioned places.
In the market I first figured out one and only medical shop, then we found bakeries, cafes, gift shops, and beauty parlor too. We had a great time walking through the place.
On both the days we ended up having lunch at Himalayan Café.
That evening the moon was shining with its full spirit. The mountain top and the moon looked so soothing that like always I kept watching it for hours and framed those moments for you-
We partied that night for it was birthday of one of us (Priyesh). In 6 days we were bonded enough to celebrate together. Kaza market helped us to manage a cake and rest was all pre arranged 😉 . In the garden area of our stay, we managed lights through the cab lights and so was the music arranged, thanks to our drivers. On that cold 5 degree temperature night we danced madly and crazily. We danced on our collection of music, did zumba and since the drivers were himachali , they taught us Himachali dance. It was so much fun to miss now and to remember and smile and be proud of the moments we have had together.
Day 7- KAZA- KIBBER- KI MONASTERY -LHANGZA-KOMIK-HIKKIM
It was a super morning at Kaza, the window view to the field one both was honey to eyes. 🙂
It was time to visit Village Komik, Hikkim, Langza, Kibber and the very famous Ki/ Key Monastery.
1st stop – Kibber Village –
Kibber is a village high in the Spiti Valley in the Himalayas at 4270 metres or 14,200 ft in Himachal Pradesh in northern India. It contains a monastery and the Kibber Wildlife Sanctuary. Kibber lies in a narrow valley on the summit of a limestone rock. It is located 16 kilometres from Kaza and a bus service connects them in the milder summer months. Agriculture forms the backbone of the local economy and lush green fields are abundant.
The village has around 80 houses, unique, given that they are made of stone instead of mud or adobe brick used extensively elsewhere in the Spiti valley. Kibber has a civil dispensary, a high school, a post office, a telegraph office and a community TV set in the village. Kibber Monastery was founded by Serkang Rimpochhe of Tabo.
While we stopped to get down, there was snow clad mountain on the left and the village on the right. The very first attraction was the high school which seemed huge. We interacted with teachers and students out there.
The sweetest kids whom we met on this journey were in Kibber. A simple hello turned into hugs and laughter and of course a click.
This particular girl found some fondness in me and I definitely found the likeness in her. We started conversing through the window of her house while I was on the road. She invited me in her house and she wanted to hug me tight, it was magical and ineffable. Her mother offered me tea. They were so warm and hospitable. Though I wasn't officially her guest, she welcomes me so warmly in her house. We shared smiling moments and then I joined my group on a grass land where we were so damn free to laugh out loud. There was an air of happiness which had got into our lungs and while we breathed we could only smile with each one. Some places are so much magical.
Even the animals of this place were happily enjoying their lives.We spent hours sitting on the grass land and admiring the beauty of the place and simplicity. It was a contented place of happy and learned people which gave a fresh note to think about life in new dimensions. 
We met some foreigners on the way back to the car and shared happiness with them too. Some meetings in life are few seconds but their remembrance lasts forever.
2nd Spot- Ki/ Key Monastery –

Ki/ Key Gompa (is a Tibetan Buddhist monastery located on top of a hill at an altitude of 4,166 metres (13,668 ft) above sea level, close to the Spiti River, in the Spiti Valley of Himachal Pradesh, Lahaul and Spiti district, India.
It is the biggest monastery of Spiti Valley and a religious training centre for Lamas. It reportedly had 350 monks. Being remotely located atop a hill overlooking endless plains, the Key/ Ki monastery is an oblivious choice of calm and peace.
Read out the history of Key monastery here-
Right from the entrance point to the mid point which shows the mountain ranges to the Spiti river flow on the right to the main hall of the monastery – each thing is an experience so holy and peaceful. As soon as we entered in the main hall of the monastery, state of meditation and peace got inside us. We kept sitting for about half an hour. There is a strange yet wonderful silence this place has.
We walked to the back side of the monastery which was extremely windy. The view from this point was heavenly.
We also walked up to visit a small hall at the top where I met a monk who made us have kahwa, which tasted like nectar. He was quite interesting to talk to. He told about the history of the place this monastery and how do they manage their living here in extreme climatic conditions.
Before the visit I always use to wonder for why is this monastery so famous. Now I know.
The visit was over after playing basket ball with the monks. What fun it was!
3rd Spot- Langza
Nestled between the mountains in a bowl shaped area in the Spiti Valley is a small remote village named Langza. This village is situated at an altitude of 14,500 feet above sea level in the Lahaul and Spiti district of Himachal Pradesh in northern India. Langza trek takes you back to the prehistoric era when Spiti was submerged by the Tethys Sea as you explore a land very rich with fossils of marine animals and plants which were here millions of years ago.
We crossed the village and reached Komic.
4th Spot – Komic
The picturesque Lahaul and Spiti Valley embraces several treasures in its vicinity and Komik is one such place, which is set beautifully amid the stunning mountains in the state of Himachal Pradesh in North India. Komik Village is the highest village in Asia and is located at a height of 18,000 feet above sea level.
Komik which means 'eye of a snow cock' has a population of 84 people.
Have a look of the view-
There are two monasteries here-
Komic Monastery – it looked like a school complex. Huge building where mere entrance provided a relief led feeling and as soon as the steps were touched by the feet, entire body as if got purified. It was bliss to be there. I was the only one to go inside the monastery that time. When a monk saw me, he came to unlock the door and made me visit the monastery from inside, offered Prasad and gave blessings. In fact this was the only monastery visited on this trip, where the monk offered Prasad.
Have a view
The sun was setting in a colouful way that evening. There was so much to look around.
2nd Komic monastery – the highlight of this monastery was this that only boys were allowed to enter this monastery. no one knew the reason but that was the rule. The boys mentioned that they were lucky enough to attend the evening prayers in a "lhakhang"(god-house).The reverberating sound of a Lama humming with rhythmic beats of the drum inside a small room was calming.
In hills, animals have so mark on their body for recognition. Here a red cloth was tied on cow's ears.
4th Spot- Hikkim – World's highest Post office – 17214 feet above sea level. As soon as we reach here, a bunch of kids came in front of cab asking for chocolate and fortunately we had some. They were innocent and very demanding. They were naughty and adorable too.
We walked down to the post office, world's highest post office. It was such a matter of pride to be there that all we did was look at each other, helped to walk down and posed with this board. We kept telling ourselves that yes, we're really there, we made it. From such a height and far away land from the regular civil plain land living there is this hope of connection. There is no phone network in this region and the traditional way of writing gets honored through this post office. It was a wow state for all of us. We got inside the post office and got the post cards. Each one of us wrote a post card letter to loved ones and family. We were told that the post cards would be reaching our addresses in months. Some of us received the card and some of us are still waiting. This was the most unique experience of the visit to Spiti Valley. You know why? Because-
We were proud to be there – World's highest post office.
In that far away land, we chose to write letters to those who really matter to us, like really!
We felt strongly disconnected and heavenly connected with our loved one's without any instant connection.
The power of written letters was redefined for us.
We came back to Kaza that night with astounding views and memories.
Day 8- KAZA- LOSAR- CHANDRATAL LAKE (14000 feet)
That morning of Kaza was indeed beautiful and exciting since today we aimed to reach the dreamy and for a moon lover the real check on dream lake called Chandratal lake.
The morning was further beautiful because of the way we took to via Losar and Kunzum pass.
The drive it seemed is through the clouds or was it the clouds making us fly amongst the dramatic and furnished mountain ranges and gompas. That road journey was no less than a heavenly dream.
We stopped in between to feel the road and pose with it.
On the way we found wild flowers and animals, equally beautiful as the regular one's are. In fact in that barren land, any color was hope for a better life and time and the best time we were having.
Introducing one and only hand pump on this way. Blue colored. In this dry land, this hand pump was another example of human evolution and hardship for survival.
The very first fall to be crossed had arrived then and we managed to cross it well. But this was the first and the easiest, we were told.
We had lunch at Losar. Typical alu ka paratha and pudina wali chai. This is how it looked like, a different beverage of this region.

We found real yaks in group walk and having their time of lives. It was like we were driving through the wild life and that wild life was less dangerous than the real life people around.
As we were approaching the Kunzum pass, the road was becoming tougher and rough. We came across an auto on that way which was driven by two Germans. They were on their own expedition to figure out the possibility of drive of an auto in such climate and road condition.
And then there we were at Kunzum pass.
Kunzum Pass (Tibetan: Kunzum La, (el. 4,590 m or 15,060 ft), is a high mountain pass on the eastern Kunzum Range of the Himalayas some 122 km (76 mi) from Manali. It connects the Kullu Valley and Lahaul Valley with the Spiti Valley of Himachal Pradesh, India. There is also a 9 km trek to the Moon Lake of the Chandratal from the Kunzum Pass, where we were to go driving.
The place was amazing and here we were literally surrounded by real snow clad mountains 360 degrees. The interesting part of this place was Kunzum mata temple. There is a iron piece there in the temple. It is believed that if you are true and have clean mind and you wish for something, then if you place a coin on that iron piece the coin sticks to its surface, else it doesn't. Mine did ;).
It was windy and chilling, and like always the colorful prayer flags added beauty to the place and create life in a place which is white and brown.
For all those who had never seen and touched snow before, it was a delight to find some on the way and our driver had a different way to enjoy it. He made a ball of it and had it in his mouth like we generally eat chuski. Little joys of the hills…
Post kunzum pass, another fall was to be crossed and this one was tricky. Not for us, but the bikers. Watch the video to see how tricky was it.
And then by late afternoon, we reached Chandratal Lake base camp. It was time to live in a luxurious tent with attached restroom, a double bed with nice quilt.
It was time to live under the roof made up of cloth.
It was time to trek.
It was time to watch moon playing hide and seek with clouds for us. And that too at a Moon lake,Chandratal Lake.
Post checking in the allotted tents, we drove for a km to the point from where we had to start the trek to Chandratal Lake.
They say it feels good to be lost in the right direction. And Hiking they is like life, the journey only requires you to put one foot in front of the other …again and again. And if you allow yourself the opportunity to be present throughout the entirety of the trek, you will witness beauty every step of the way, not just at the summit. This held true for this trek. For every step made us see a different form of nature beauty, see here to believe –
Chandratal Lake –
Chandra Taal (meaning the Lake of the Moon), or Chandra Tal is situated in the Spiti part of the Lahul and Spiti district of Himachal Pradesh (India). The name of the lake originates from its crescent shape. It is situated at an altitude of about 4,300 metres (14,100 ft) in the Himalayas. Mountains of scree overlook the lake on one side, and magnificent cirque presents a view on the other. Chandra Taal is a popular destination for trekkers and campers. The lake is accessible on foot from Batal as well as from Kunzum Pass from late May to early October. There is also a motorable road available till a parking made 2km before the lake. Stay options are available 5km before the lake on pre booking. The road from Kunzum Pass is accessible only on foot, and it is about 8 km (5.0 mi) from Chandra Taal. Suraj Tal is also accessible Chandra Taal, 30 km (19 mi) away. Vast meadows on the banks of the lake are the camping sites. During springtime, these meadows are carpeted with hundreds of kinds of wildflowers.
The lake is situated on the Samudra Tapu plateau, which overlooks the Chandra River.
The lake is one of two high-altitude wetlands of India which have been designated as Ramsar sites.
And that day the real moon also appeared clearly in day light to compliment our walk to the Moon lake.
It was very cloudy that day and hence the view in the lake, which generally is transparent wasn't so. The lake appeared green in colour. Yet the beauty remained intact. If the clouds would have not been there the walk would have not been as interesting and picturesque as it was.
As the night approached, it was time to have dinner and hunger pranks were at their high. One of us was an expert in making rotis in a faster way, though a Doctor by profession, put to mark in work of kitchen and so Sarangaa made 100 chapatis that day to be served to all and this way we happened to get dinner much on time.
The kitchen area was also tented. The cooks there were local of nearby village and very friendly to talk.
Post dinner, we spent about two hours together in a tent, 13 of us in a tent; you can imagine the size of the tent now 😉 and we played this game called Maafiya. It was so much fun being together and having fun times.
We were strictly told by our drivers to start from Cahdratal lake to Manali via Chhatru on time at around 6 because of the rough and tough way. It rained entire night and the temperature went down, yet we all made sure we start on time.
Day 9- CHANDRATAL LAKE- MANALI (6726 Feet)
We started on time, the third fall of the trip and that day's first fall was to be crossed. We walked through it.
And then there was way filled with water up to the feet. On such ways, a small mistake while driving can lead to tyre puncture; which us normal in this region, it can also let the car's tyre get stuck between the rocks. Hence one has to be cautious. Though our drivers were experienced and sound, one of the cars got stuck and it was a real task to make it move out. the adventure had started but the real adventure was to come.
We managed through the way and reached Chhatru Village, where we were suppose to have lunch and move to Manali via Rohtang pass. Chhatru had something more than lunch for us, which we were just not aware of.
As soon as we stopped, Ram bhaiya said ' Madam yahan time lagega, rasta band hai.' I asked him how did he know about the way, on which he said that since there are already cars parked. People don't stop here for long, since there were so many of cars hence it was clear to him that there is something wrong.
We thought there might be a problem but will get resolved. After half an hour we got to know that there is a massive landslide which has happened at two points between Chhatru and Rohtang pass and till the bulldozer comes for rescue through BRO and the road repairs we couldn't move. We walked for 2 km to see the fourth fall, to be crossed. We saw the speed of the melting glacier candidly and the way people were stuck. That was just a beginning and this was a trailer. There is fall on this way called PAGAL NALA and we were told that crossing that is the main task which was about 16 km away.
After 2 hours we understood that we were stuck and stuck badly. For how many days no one knew. We were restless and afraid since we had our flights and bus bookings for the next day from Manali and Delhi. So, a bit about Chhatru –
Chhatru is a beautiful serene village. It is pristine, awe-inspiring, lesser known, unexploited.
Population – 120
Height- 11100 feet
No phone network including bsnl works here
There is only one govt. guesthouse on hill top, only available to their wards
There is no stay here near by
There is no toilet; natural way of excretion is the only remedy. Yes the toilets were there near the guest house at the top
The only possible stay was living in a real portable tent
There was one satellite phone in the government guest house, which was opened so that people can inform their family about their well being
So for some of us who were missing real adventure and the stay in a tent, their dream came true. Fortunately our drivers had asked us to book tents from the dhaba wala and we got it in about Rs. 500 per tent per day, which was a kind of risky booking since we had hope that the way might get okay to be driven. Later the opportunity to make money was best utilized and the rent of the remaining tents went up to Rs. 1500 per night.
So our luck favored and in that less habitat land, we had food, through dhaba, had water to drink and had a shelter of tent to spend the night in. we were blessed.
There was a flip side to this adventurous situation. We got to spent time in this beautiful village and bond with each other in a better and better way. That day being at the same place for 24 hours ( we were stuck for 24 hours), we experienced the warmth of the sun in day, the challenges that hills bring, we looked at different shapes of clouds in the sky and became child again when compared with a thing in our lives, the effect of global warming, sunset in the hill, we watched the moon rising on the top of the hill, we gazed stars and we understood how simple and happy is life, when you have basic necessities and less desires. We appreciated our stay at Chhatru and early morning we woke up with a hope that things might get better.
I woke up at around 6 am and the sun was all bright. The first question in my head was if the road has become fine. BRO is on the job I was told, yet it wasn't sure how much time or days would it take to cross it. First thing I did after waking up was to reach out to the PCO of satellite phone to be the first in the queue and to inform my family and workplace about our situation. Around 11 am we got to hear the good news and we rushed to cross the dangerous patch.
The fifth fall was to be crossed, which is known as Pagal nala. Each one of us got out of the car, took our shoes off, folded our pants and made ourselves mentally ready to walk through the gushing, chilled water through the stony base and to help each other to cross the way. We all managed to do a great job. Drivers did their bit and got the cab cross the way safely.
The sixth fall was to be crossed and the water there was directly from the melting glacier, it was so chilled that it gave rashes to the feet. It was crazy to cross this as the water level waa high.
Yet we managed to cross these falls well on time and most importantly safely, Thanks for BRO and the drivers.
Uncertainty kills. It makes you curious and anxious. It is one difficult thing to come over. The lesson from this uncertain situation was this that sometimes you should let things/situations flow on their own and you should just participate as you are required or expected to be. We would have not been able to do anything. There was no way out. it was just the situation getting resolved on its own and of course others efforts that we crossed the way safely.
We reached Manali by 6 pm and straight away submitted our luggage at the cloak room of the bus station and freshen up, had good food after a day and boarded the bus to Delhi at night.
We were back with fantastic memories, everlasting bonds, lessons, framed moments, self awakening, dreams fulfilled and I am amazed about myself that though today on 17th Sep, I am completing this article after 2 and half months, each moment of this trip is firm in my mind. Every detail is as it is. Thank you travelling me this far. You must travel to this place once in your life, if you like anything about this article.
Happy Traveling.
Julley.
Shruti