Half the fun of the travel is the aesthetic of getting lost. And that is what I experienced when I travelled to a well-known state and less known region of Rajasthan called Shekhawati Region.
Mode of travel – Car – Delhi to Mandawa to Nawalgarh. (About 600 km in total)
Road trip view

Road trip advantage is to have a picturesque location
Number of days – Started on Saturday early morning from Delhi to Mandawa, reached early afternoon, overnight in Mandawa, Sunday morning to Nawalgarh via Mukundgarh – Dunlod. Sunday early evening from Nawalgarh to Delhi.
Recommended Month – Best time is during Winters and Monsoons, if you like rain.
Shekhawati is a semi-arid historical region located in the Northeast part of Rajasthan, India. Shahpura Being the Head Seat of the Shekhawati. Shekhawati is located in North Rajasthan comprising districts of Jhunjhunu, Sikar, Churu and a part of Nagaur and Jaipur.
Shekhawati region is best known for Havelis.
In the heart of the Shekhawati region of Rajasthan lies the beautiful small town Mandawa, known throughout the state for its Forts and Havelis.
Mandawa is one of the most beautiful town of Rajasthan. This is also a place that is sure to help you and see how lavishly the royals have continued to live a rich life in Rajasthan. Though the town is said to be an open gallery, each and every step of corner that you take is sure of running you with beautiful paintings and art work that are not just unique but even funny. With the haveli being located each and every where I am sure that one will continue to love this small and beautiful town Mandawa.
Places to Visit in Mandawa –
Mandawa Castle – This has two parts one New castle, which is open for tourist to stay as hotel and also to for tourist to see the beauty and the side is old structure which shows the aging of the region
Havelis – The town is filled with Havelis with beautiful architecture and narration of thoughts all over the walls. It is also famous for Bollywood movies shoots. Out of all witnessed best ones were Golden Havelli where there is a room where 3-4 kg of gold was used in painting and is still intact and other is double havelli with an amazing architecture and paintings.

Golden Havaeli in Manadawa

Paintings in Golden Haveli in Mandawa

Paintings in Golden Haveli in Mandawa

Paintings in Golden Haveli in Mandawa
Double Haveli Mandawa

Double Haveli Mandawa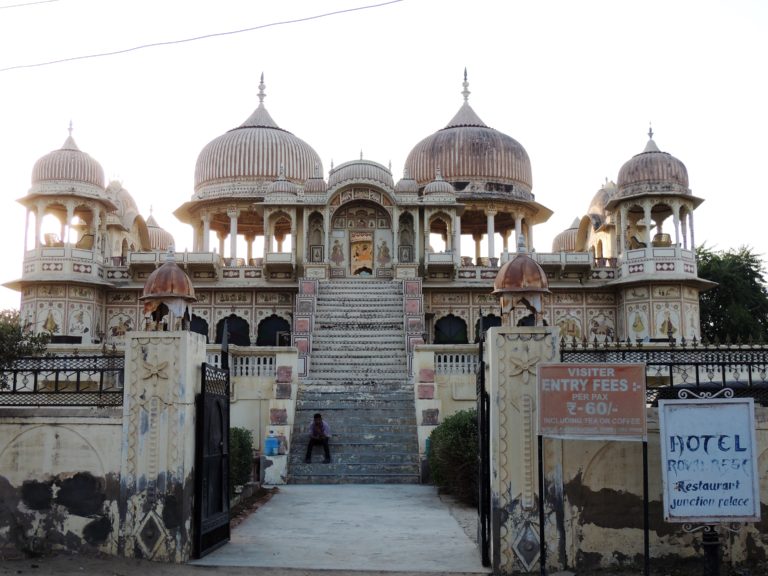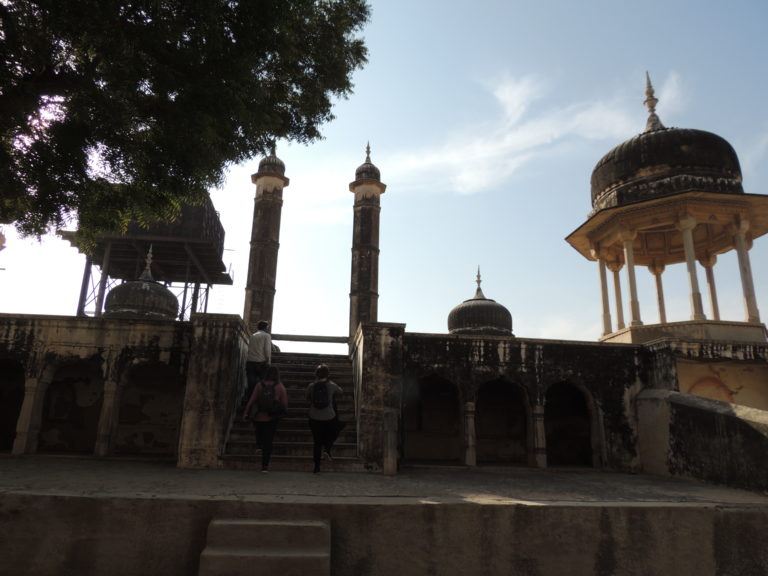 Mandawa is an experience to dive in history and richness of the region which it was and in a way still is. The main city is spread across 5 km radius and while you walk around you do experience the cleanliness and optimal usage of resources. The peace which simple living brings can be felt in Mandawa.
Nawalgarh is famous for its Fresco and Havelis and considered as Golden City of Rajasthan.
The most unique must place to visit is Poddar Haveli. Though most of the Havelis are similar. This one is totally unique since it has depiction of experiences of artists. In the old times artists were sent to various big cities and all they use to see in the city, to educate others use to be created on the walls of Havelis.
Poddar Haveli view below-
Post this unique experience, we visited Rasoi Restaurant which is uniquely built and serves fresh and delicious food, only vegetarian.
As luck had it, we came across the owner of this restaurant and he made us see the real hidden treasure. The king's room, the chariots hundreds of years old. Visiting the Haveli he owns in present time was a walk to remember forever. From knowing the story behind the hole on the wall which was due to a firing or then the owner and seeing the barbag tree in the middle of the haveli to seeing the closed King's room was an experience of its kind. Nothing brings more clarity of a place than a local person.
If you are looking for a short/ weekend trip from Delhi and is fond of simple things and history, this place is for you.
Happy Traveling!