Long weekends are blessings for all working and non working friends and family who get a chance to move out of their regular routine and experience a different air, people, food and culture. It brings an ecstatic escape to our lives and gives us a chance to spend quality time with ourselves and our loved ones. Some of us have a habit to plan all long weekends in advance and I am one of them. I guess so are you…to have a long weekend escape.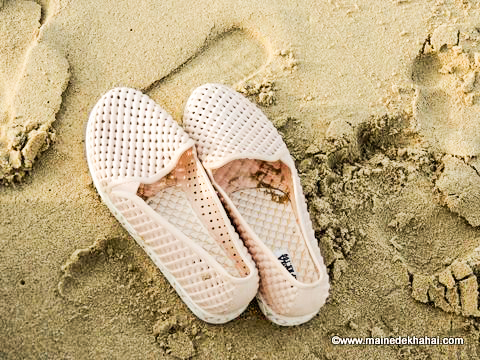 This travel from Delhi to Chennai to Mahaballipuram to Pondicherry to Auroville was one such long weekend escape for me.
The highlight of this trip for me was this that I was travelling with the person who instigated the passion to travel in me, at the age of 3.
Trip duration- 4 days.
We flew to Chennai on Friday night and the real journey by road started the very next day from Chennai.
Day 1-
Mode of transport- Car (cab)
We started early morning and drove to Mahaballipuram via Crocodile Bank, which is on ECR. The road in itself is a real experience. A road parallel to the sea cost. It was the very first time for me to be on a drive on such a road. East Coast Road (ECR) is a two lane highway in Tamil Nadu, India, built along the coast of the Bay of Bengal connecting Tamil Nadu's state capital city Chennai with Cuddalore via Pondicherry. The East Coast Road has been extended up to Kanyakumari. The total length of the road is about 800 km from Chennai to Kanyakumari.

Crossing ECR on a long weekend escape

ECR View on a long weekend escape

Pristine view of ECR on a long weekend escape
The very first spot to explore happened to be zoo of Crocodiles. For any age, this place is of great interest. I had heard stories and features and types of crocodiles and had read a lot in books, yet experiencing them live was amazing in itself.
The Madras Crocodile Bank Trust and Centre for Herpetology is a reptile zoo and herpetology research station, located 40 kilometres south of the city of Chennai, in state of Tamil Nadu, India.
The very entrance brings a forest walk view. The dense green park and the loose sand assure you that you are in a coastal region. We walked in and saw green water pond. At first we couldn't see any reptile and then suddenly there came the host, the Crocodile – The first encounter.

Science says that Crocodile believe in a relaxed, stress- free lifestyle. A lot of their time is spent in basking or lying in the sun. They are slow and lazy but that shouldn't fool us since they can be incredibly fast. So the next you wanna feel lazy and can be incredibly fast, you shouldn't shy away calling yourself a Crocodile.
We saw Alligator, Marsh Crocodile (Marsh), Tomistoma, Green Iguana, Asian Water Monitor, Morelet's Crocodile, Ghariyal, nest of crocodiles, Tortoise and a bird.
The way to Crocodile Park

Resting Crocodile

Tomistoma

Magar Closer View

Its just taking some air in

Green Iguana

Ghariyal

The bird among the crocs

Alligator

Lizard shaped crocodile

They were just behaving like 3 idiots, bonded and adorable

Wondering about its beak… aha..don't worry it was busy enjoying itself and was standing with bend neck for long 🙂

I found it majestic, how about you !

The Selfie zone made me pose like that !!
We spent good an hour in the zoo and admired the nature's creation. Entry cost- Rs. 50 per person , Camera charges- Rs. 30, Parking cost- Rs. 50
Post which we moved to Mahaballipuram. Mahabalipuram, is a town on a strip of land between the Bay of Bengal and the Great Salt Lake, in the south Indian state of Tamil Nadu. It's known for its temples and monuments built by the Pallava dynasty in the 7th and 8th centuries. Mamaballipuram is 50km south of Chennai. A wander round the town's magnificent, World Heritage–listed temples and carvings inflames the imagination, especially at sunset.
'Mahabs', as most call it, is less than two hours by bus from Chennai, and many travellers make a beeline straight here. It's small and laid-back, and sights can be explored on foot or by bicycle. Since we had to move to Pondicherry on the same day so can was a better option. In case your stay is in Chennai, you better take a bus, enjoy the city till sun sets and take back memories of history glowing in your mind.
The entry fees for a cab in Mahaballipuram costs Rs. 50.
Out of all the beaches that we witnessed between Chennai and Auroville, the cleanest beach was of Mahaballipuram. Serene, peaceful, candid, deep, holy.

Mhaaballipuram

Mahaballipuram Beach
The second attraction after the beach was Shore Temple, as they call it to be the main attraction.

Shore Temple, Mahaballipuram

Shore Temple, Mahaballipuram
The seafront Shore Temple comprises 3 ornate granite shrines. Krishna's Butter Ball is a massive boulder balanced on a small hill near the Ganesha Ratha stone temple. The temple is really at the shore of the sea.
Standing like a magnificent fist of rock-cut elegance overlooking the sea, surrounded by gardens and ruined courts, the two-towered Shore Temple symbolises the heights of Pallava architecture and the maritime ambitions of the Pallava kings. Its small size belies its excellent proportion and the supreme quality of the carvings, many now eroded into vaguely Impressionist embellishments. The two towers rise above shrines to Shiva and their original linga captured the sunrise and sunset. Between the Shiva shrines is one to Vishnu, shown sleeping. Rows of Nandi (Shiva's vehicle) statues frame the temple courtyard. A boulder-carved Durga sits on her lion-vehicle's knee on the temple's south side.
The next attraction was Five Raths

Huddled together at the southern end of Mamallapuram, the Five Rathas were, astonishingly, all carved from single large rocks. Each of these fine 7th-century temples was dedicated to a Hindu god and is now named after one or more of the Pandavas, the five hero-brothers of the epic Mahabharata, or their common wife, Draupadi. The rathas were hidden in the sand until excavated by the British 200 years ago.
The first ratha on the left after you enter is the Draupadi Ratha, in the form of a stylised South Indian hut.
Next, on the same plinth, is the 'chariot' of the most important Pandava, the Arjuna Ratha, dedicated to Shiva. A huge Nandi stands behind. Shiva (leaning on Nandi, south side) and other gods are depicted on the temple's outer walls.

The barrel-roofed Bhima Ratha was never completed, as evidenced by the missing north-side colonnade; inside is a shrine to Vishnu.
The Nakula-Sahadeva Ratha (named after two twin Pandavas) stands aside from the other four and is dedicated to Indra. The life-size stone elephant beside it is one of India's most perfectly sculpted elephants. Approaching from the gate to the north you see its back end first, hence its nickname Gajaprishthakara (elephant's backside).
The other attractions in the city are Arjuna's Penace, Cave temple, Krishna Mandapa, Varaha Mandapa, Lion Throne. From which ever monument you start your tour, you get one ticket which allows you to enter any of the monuments in Mahaballipuram. The cost of which is Rs. 30 per head. There is a cost of parking of cab around every monument, so its advisable to park the car at one place and walk or cycle around (just in case you wanna save money).
Also there is Sea Shell museum, which show cases various kind of Sea shells. It is Asia's largest seashell museum, There are over 40000 specimens of shell … History Museum in Mahabalipuram.
I had always read and seen online about the ECR way, of how best it is and its beauty. Having a drive on this is worth it and justifies the fun of having a road trip, especially by car.
ECR

ECR
There is a permit charge of Rs. 300 which needs to be paid if you are travelling by cab and toll charges of about Rs. 100 in total to reach Pondicherry.
Pondicherry is the capital city and the largest city of the Indian union territory of Puducherry.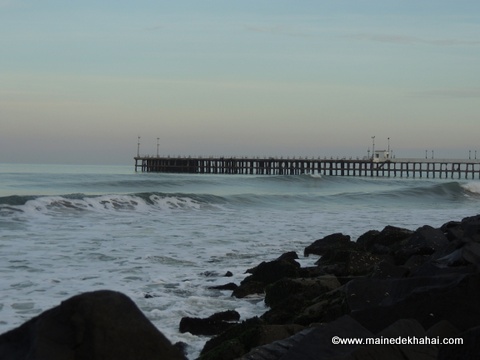 We reached Pondicherry in the afternoon and reached out to White town area of Pondicherry. The first place, rather an eating joint that we visited was "Kasha Ki Asha", suggested by a friend who had tried food at this place various times. Shakes were recommended to be a must have! So we ended up having a feast as heavy as possible -South Indian cooked food with shakes.

Kasha Ki Asha, Pondicherry

Kasha Ki Asha, Pondicherry
The restaurant was on the first floor which had a terrace and was nicely and beautifully decorated. Its simplicity and friendly service makes this place a must go place. It really stood up to our expectation. https://kkapondy.com/ (Restaurant link here).
Post having lunch we walked around the white town and saw the French architecture, the streets with unusual names in India, it instead made us feel to be in France. Rue written instead of street, yellow building, cleanliness maintained. For some time it doesn't seem one is in India till you see an auto asking you to board and move to another place.
As the sun approaches the set, we took an auto and moved to Goubert Avenue. I had heard a lot about this place. Everyone who had visited Pondicherry amongst my friends mentioned this place, to be visited. They say no trip is complete without having a walk at this place. Goubert Avenue has various hotels and is the first preference for a tourist here. It has various cafes and a Rock beach.
Since it was a long weekend time when I was there hence the place was crowded enough. It was humid, but as the sun set and the waves roared, the evening turned pleasant. I found this board mentioning Ice cream rolls and I was all ready to let it settle on my taste buds. The café had various flavors. You may choose as per your preference.
Ice cream rolls

Rock Beach

Rock Beach
This is how it looked. It was yum, chilled and settled well on the taste buds.

The walk off the sea shore was great enough.
There was a flip side of this visit. We walked over the big black rocks and settled ourselves near the sea water. Since we had walked down and had sat there already, we found real dirt around. There were plastic bottles, liquor bottles, chips pack, even used baby diaper.. It was quite sad to experience this. Wonder what kind of hygiene we as tourists and travelers maintain. Why do we forget that the dirt we leave at such places might be coming back to us in a haunted way and result in devastation? Heights of littering… There're dust bins kept in the city at every half km and especially in such public areas the authorities make sure there are enough dustbins, yet such situation exists.
This day was more of a cab and auto travel experience. Well to mention, here for a North Indian it is a task to negotiate with Autowallas, yet with your negotiation skill you can do that very well. How I use to negotiate was .. by checking the cost that Ola has for the distance I needed to Travel. Comparatively I use to tell autowalas what I would pay. In fact Ola service is really bad in Pondicherry. There aren't enough cabs in the city, especially when it gets flooded with tourist.
Day 2-
It rained last night very heavily that we slept in a no hope situation to have a bright morning. Yet post 9 am when the rain stopped, it was all bright and shiny. We started our day at 10 am and that day we decided to explore local buses and see how local people behave. Though the bus took more time to make us reach to our destination than an auto, that way we saw various part of the little Pondicherry. We saw temples and churches. We saw local market and daily routine. It was Sunday hence the streets were waking up little slowly. We visited very famous Paradise beach that day.
We took a bus to Ponddicherry bus station, from where the beach was to be reached by auto. In the morning bus we got the seat at front. There was Tamil music being played, which was nice enough to be heard and enjoyed. At the next stop a lady wearing gajra in her hair sat beside me and gave the real feel and fragrance of South India where every woman wears Gajra. The conductor could understand English and was helpful enough to guide us where to get down. The reaching was still easy than getting inside the gate of Paradise beach.
While I reached, there was a long queue and it took about one and half hours to get the ticket of entry and the boat.
Paradise beach is a beach which can be reached through a boat which is sailed on the back water, connecting the beach with the land area.
The cost of entry is Rs. 10 per head. The cost of boating till island is Rs. 150 and full journey which is boating and landing and 2 hours of stay at the beach and return costs Rs. 200. Most of the people take full ticket which means 200+10= Rs. 210 for an entry.
We entered the premise with the ticket in our hand, unaware that there is another queue waiting for us to increase its length. That took another one and half hours and finally we landed on the beach at 4 pm.
The boat ride was for about 15 minutes.

Loaded boat on Back waters of Paradise beach , Pondicherry

Boat ride
There were various boats, small, big, double Decker.
The first view through the walk was a rain dance, being enjoyed by people. From the entrance to the beach it is about 400 meters walk which takes you to the beach.

Paradise Baech entry

Rain dance spot at Paradise Beach
I have always found these sugar coated cotton "budhiya ke baal" that too pink in color an arrival of happiness and smile for kids. This man on bicycle was doing his job diligently and watching him on the beach side was bringing smile on my face.
Paradise beach was clean; it was so clean that the transparent bottles lying near the shore was so damn clear and visible. We need to be more responsible while we visit places and play with nature.
Beach (Sea) is one of the magical creations of nature, which shows us, how simple life is. It shows the depth that living has and it shows how easy it can be to let go, what is not in our control. Waves bring happiness. Every time a wave come and touches the feet, it feels as if that one touch has awakened the entire soul. And when a strong wave makes you wet, it plays with you and you play back and a conversation starts and chemistry establishes – It is such a joy!
I visited a coastal region after several years. I have been travelling to mountains often, hence the first view of the sea and the first wave which touched me was truly special and it reminded me how badly I had been missing to hug it tight, so I walked in. I let the wave come and go and I allowed the wave to take some bit of me through the sand under my feet. At times it felt as if the wave was coming strongly and would take me along, but it was just playing and I stayed alert in the play and we both won.
Man carrying happiness and smiles

Traditional witting of the name

Dance on the sound of waves

Foot care

Jump of Joy
Luckily there were no people for about 200 meters on both the sides of me and so it looked as if I was blessed with some private beach, at a public place. The solitude this brought is ineffable. I hugged the sea tight, I danced with it, I jumped in joy and as tradition brings I wrote my name on the sand and let the wave take my name and absorb deep inside it.
We made our way back when the sun was about to set. The ferry ride made us witness sunset and the reflection on it on the backwaters.
We watched birds flying back to their homes in group, changing the pattern every minute, yet together.
Playing with the sea makes you really hungry and at 6:30 pm in the evening we really wanted to eat something nice and heavy. We found a restaurant right in front of the exit but unfortunately they were not serving much during that time. We walked further and found another restaurant, surprisingly no restaurant was serving south Indian food and we were in search of that. Out of sheer hunger, we ordered Chili Paneer, and it was the most pathetic paneer we would have ever have had. Why am I mentioning this here is so that in South India, one should really avoid eating things like paneer, until and unless its really a nice restaurant. It was spicy like hell and we moved from that restaurant with stomach burning with hunger. Finally we saw an authentic South Indian dhaba and we had the tastiest sambar dosa and freshly prepared chai. The person who served us food was from Orissa and knew hindi. His service was optimum and he was sweet enough to converse. A satisfying dinner, it was.
Day 3-
It was day for Auroville. We started for Auroville early. We booked an auto who showed us all relevant places in Auroville. I had read a lot of peacefulness, greenery, solitude, simplicity and uniqueness that Auroville has and it was time to experience all of them. We booked an auto and got to see through the place in a nice way.

Matri Mandir- The Matrimandir (Sanskrit for Temple of The Mother) is an edifice of spiritual significance for practitioners of Integral yoga, situated at the centre of Auroville initiated by The Mother of the Sri Aurobindo Ashram. It is called soul of the city and is situated in a large open space called Peace. Matrimandir does not belong to any particular religion or sect.
The Matrimandir took 37 years to build, from the laying of the foundation stone at sunrise on 21 February 1971 – the Mother's 93rd birthday – to its completion in May 2008. It is in the form of a huge sphere surrounded by twelve petals. The Geodesic dome is covered by golden discs and reflects sunlight, which gives the structure its characteristic radiance. Inside this central dome is a meditation hall known as the inner chamber – this contains the largest optically-perfect glass globe in the world.
There even animals felt free and at peace to have mud bath. – Auroville
Visit to Matri Mandir are of two types – "View of MatriMandir" and other is " Visit inside
MatriMandir".
In order to view it one needs an entry ticket. – free of cost. Closing time- 4:30 pm
To visit inside one needs to take ticket and time 2 days in advance. Depending on the number of people who comes to visit the time is allotted to have session of Yoga or meditation inside. The entrance hall has majestic wall hangings and the best one was this –

From the entry to Matrimandir view point there are several ways to reach..
Walking obviously. Cycling is different and interesting one- they provide cycles to move around the place. There are vans for senior citizens, children and handicapped people.
Cycle Stand at Matri Mandir, Auroville

There were handicraft shops in the premise and the place is nicely decorated. We spent about an hour and half in the premise and then moved from there. Parking cost – Rs. 20.
Thousands of years old tree, with branches attached horizontally at Auroville
We drove around the place and went to Auro Beach. It was different in its own way. There were small stalls of pineapple, ice cream and bhutta and the beach was reachable to visit. The waves were as usual roaring high. There were fishermen and other men having a swimming, whose purpose I couldn't understand but surely they must be there with one.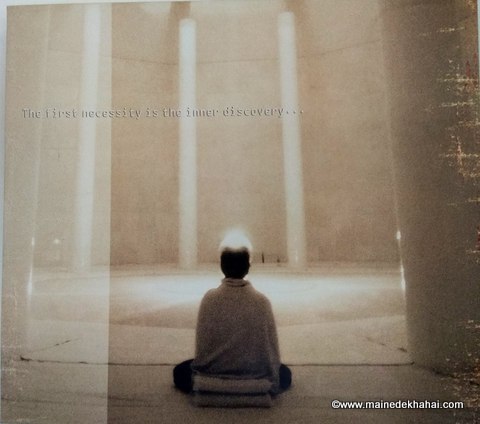 Auro Beach
Auro Beach
Located about a kilometer away from the Serenity beach, the Auro beach is great place to enjoy the cool waters and calming breeze. As with the Serenity beach, this is comparatively less crowded than the other beaches of Pondicherry. Even the ride towards the beach is amazingly peaceful with trees providing a cool shade.
Although this is beach is not very clean, it is still flocked by many locals, especially youngsters. Numerous people can be seen taking evening walks and enjoying the mesmerizing view of the sunset. The beach is framed by hard rocks, which add to the beauty of the place. If you want to relish a peaceful location, away from the hustle of the city life, the Auro beach is a perfect spot to spend your time.
Serenity Beach– This is largely perceived to be one of the most beautiful beaches in Pondicherry. Its pristine golden sands, playing hide and seek with the shimmering waters of the Bay of Bengal; its secluded and quiet ambiance are unbeatable and attracts thousands of visitors every year. The beach is fringed by lovely palm trees which wonderfully frames this excellent site. Visitors and locals love to spend moments of repose and relaxation here as the beach is also not over-crowded.
Serenity Beach
Situated at about 10 minutes' drive from the northern quarters of the town, the name "Serenity" is completely apt for this beach due to its peaceful surroundings. One of the most popular activities here is surfing which is enjoyed by youngsters to the full.
A Surf school and a weekend flea market will entertain you no ends. It is a great calming experience to take morning and evening walks here. You can also witness a large number of fishing boats and some greenery in the form of creepers as you explore the beach.
The name of the Surf School is " Kallialay Surf School" Juan and Samai Reboul, born in a small village off the coast of Spain, were not introduced to the world of surfing until they moved to Auroville, India in 95, at the ages of 9 and 10. It was here that a group of surfing pioneers allowed them their own boards with which they could plunge into their newfound passion, unaware that this would lead them towards their present situation. As years went by, their enthusiasm for surfing grew and soon they found themselves with a notorious reputation for their loud voices, large fin-like noses and the habit of ditching school to catch some waves. Today, their old teachers still laugh about how, on several occasions, they unsuccessfully attempted to drag the two boys off their boards and into class (the brothers were apparently oblivious to the shouting figures on the beach). Soon Juan and Samai realised that they wanted to make their passion into their profession, at which point they started giving classes to children and teenagers of Auroville and Pondicherry. Kallialay Surf School (KASS) was created in January 2009 as one of the first surf schools on the south east coast of India.Having surfed these waters since 1996 Juan and Samai know everything about their spot. So, if you are a Water Sport addict and you are passionate about it, you must go for this. I have saved to do surfing on my next visit, since due to paucity of time I couldn't train myself to experience this.
Highlight about our Autowala, who made us visit the places in Auroville. We roamed around with him. He was a Tamilian and could hardly speak English. He made us see places and we with full trust could keep the luggage in the back side of the auto and without any doubts could roam around carelessly. His amicable way was something that I will always have in my mind when it comes to Pondicherry. While I met various autowalas who were rude and harsh to speak to, we found one who made our visit to Auroville very comfortable and easy.
We requested him to make us drop at the Pondicherry bus station from which we took an AC bus to Chennai. AC bus cost- Rs. 170 only per person.
We reached Chennai that evening and in order to see the city in a larger way, again took a local bus which took us to larger distances and made us see the local life.
Day 4–
We made a point to wake up at 4:30 am and start the walk to Marina Beach in Chennai to witness Sun rise. It's been a while the sunrise at the beach was seen and so it was special. We reached the beach on time. The difficult part was to walk from where the sandy area starts till the beach. It's the second largest beach in the world and to my experience it was the dirtiest beach ever witnessed. Littering is at its peak. The sand was so hard that it gave boils to my feet. The view of the sunrise was nice enough. It was 71st Independence Day and we with our free minds were right there at the beach to witness the free Sun.

The next few hours were to have relaxation and then we hit the market T nagar, Chennai and got bitten by the drug called shopping of Sarees. Nalli and Kumaran Sarees offers a wide range of Sarees, and you know ladies, when they shop nothing else is important.
Day 5 – we flew back to Delhi. It was indeed a relaxing and South Indian Flavour trip. A trip with History, peace, beaches, temples and togetherness all in one.
Must Carry –
-Suns cream – (to save your skin from bright sun rays)
-Umbrella – (bright sunny day walk and sudden rain precaution it is)
-Goggles – (again Sun brightness savior)
-Water bottle – (Keep yourself hydrated)
For the love of beaches, exploration and travel, Cheers 🙂
Keep travelling & experiencing this journey called Life.