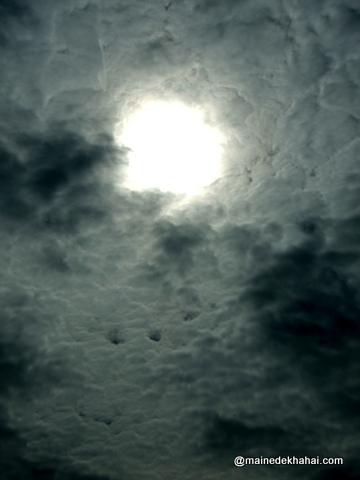 It was very sunny that day,
And the winter afternoon was bright.

I was walking alone,
Sharing smile with strangers passing by.

I looked forward to the continuity of the flow of Bhagsunath water fall,
I looked back and had a view of greenery and dried leaves,
I kept wondering about the versatility that nature brings.

I was walking alone yet I had togetherness of someone,
I was singing various songs, our favorite list was on.

I clicked every view and captured it to keep safe,
Suddenly I looked UP and found the sun and dark clouds gaming around,
I use to think they play with the moon, but there even Sun was surrounded,
It was calm and cloudy yet there was brightness all around.

Clouds with Sun made me ponder,
Every moment is worth smiling for its cloudy or its brighter,
For how do you know the other side is better,
Until you get to move from up to down,
or the other way around  .