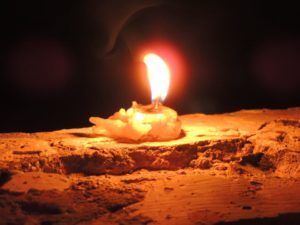 I felt like to put a pause on everything around me yesterday night.
I have been living on my own for last fourteen years and I have loved it. I have a job and varied interest in recreational activities. I have a very supportive family living 1000 kms away and all I am is because of the support they provide me each day.
I have a kind of job which has to do with meeting people, understanding their business and suggest those ways of promotion on media and on the product I sell. In this previous sentence "meeting people" is the key. Meeting people is like a unique human connection, two or more energies coming together. What technology hasn't been able to do to bring connection between two people, human presence does and I have been living this life for a long time now; like many of you reading this.
I have life, much larger life beyond my regular job and that has to do with exploration of self and everything around. I have been into this since I was a child. All of you who have read any article on this blog page, would know my love for travel, painting, photography and what not. Recently I started working (online- Youtube) with a school to educate their children on Climate change and environment during this lock down period and I love doing that. If I have to tell about my schedule, my day is packed. I don't have time to get bored. I know each day what I have to do. And beyond all of this, I am into practice of Buddhism to awaken my spiritual side and that has been working for me to make me a better human and be kind. I exercise each day to keep my body and mind further fit.
I have got some great neighbor friends and somehow they are not around.
It's Day 24 for me when I am at home. With self-company and the schedule in hand. Managing all on my own from arranging water to food to cleaning to cooking to creating light moments for self and do lot of things. That's not new to me. What is new is the fact that I can't meet anyone during this time and that sucks!
Yesterday was a day when nothing worked. Yesterday I was getting into a shallow zone which took me to a point of no thoughts. All I wanted to do was cry. My mind kept contemplating about the fears I have and about the reason for my existence. I didn't find one but many reasons for my existence but you know convincing Self is the most difficult task of all. I am fortunate enough to have a friend and support who became my life support on a call, with whom I could talk to at 11:30 PM for an hour and he made me calm down.
A person with no sleep at night for couple of weeks, slept in half an hour and woke up well.
There are people who have been living alone for long enough and they are used to it. And then there are people who are living alone during this time due to lock down situation; they couldn't travel home to their family for any reason possible. They are stuck and are trying to cope with everything at their best. When they talk to you, they look happy and they are, at that point in time, but then there are sudden times when they might need anyone of you.
I am sharing this experience with you to tell you that during this time of pandemic and lockdown, there must be many people whom you know live alone. They are strong and have been strong for a long time, hence they live alone. You might extend your support to them by asking very generic things and if you are a friend to them, try and give them that comfort that WHEN they feel like to talk they call you. After being miserable for two hours, It took me next few minutes to decide and attempt a call. And I can tell you if it was not him yesterday on the call, I do not know what the outcome would have been. There is nothing bigger than human touch and human compassion. We all have our strong and weak moments. During strong moments we can conquer the world, and during the weak one's we feel like to be taken care by someone. You might not be able to take care of someone at long distance 24/7 yet when one reaches out to you, you must know how critically that person must be in a situation which must be out of her/his control. You can understand that critical context only if you know the other person well enough. There is something peculiar about Strong people, they are often afraid to show their weak moments. It's a matter of courage for them to open up in front of someone or in front of an audience (like this note), who they trust won't judge.

If you are someone who is living alone like me, please identify your life support human and tell him/her to be there when needed. This is a time when we need to be there for each other more than any other time, when we can't go for a walk or drive or anywhere to refresh our minds, this is a time when we need to heal right there where we are. DO NOT JUDGE.
We all together hope, that our community, our country and this world get rid of COVID-19.
May the real human connection and touch revives soon!
Take care and stay safe.
Shruti