Post receiving the selection letter for being a part of Climate Force -18, International Antarctic Expedition 2018, there was catastrophe of thoughts making plans and strategy in my mind.
Raising funds was the most important factor for me to make it to Antarctica.
I am grateful for lot of things and lot many people. The thing I am most grateful is the kind of job I am into. I am a full time Sales & Marketing professional in Media Industry. I have been working for over 10 years now. I have worked for various companies to raise revenue for those brands. In a way I have an understanding of how brands associate. For the first time in my life I challenged myself to raise funds for a project I believe in and make it to Antarctica. For since I have made it happen, I have all the confidence of the world and would be able to do anything in future and if I would have not – I needed to learn more with experiences. FOR ME, IT WAS THE BIGGEST CHALLENGE I GAVE MYSELF EVER.
The question was- How would I do it?
1st – BELIEVE – I believed that I would make it happen!
2nd– STRATEGY- I made a Plan A and Plan B and if Plan B fails, I planned to apply both and trust me, it worked
3rd – TAKE RISK- I am from a middle class family and $23000 at any given point in time was challenging enough to raise. Yet if one believes in something and most importantly self, one must take risk. I took risk by depositing initial amount of $3500 for confirming my participation.
4th – SURROUND YOURSELF WITH PEOPLE WHO BELIEVE IN YOU – That was a time when even my family wondered about my doing, since I hardly had any concrete plan or back up. During such time real people appear in your life with real colors. I have been blessed to have such support from my closest friend. He had a lot of doubts in his mind when I was planning to take the first step of confirming my participation, yet he simply believed and provided all kind of positive energy which was THE requirement. For if such companionship would have not been there with me, it would been a tougher task to carry on with my journey. HE remained a constant source of inspiration and drive. Other than him too, I had friends, acquaintances, colleagues who instilled the faith in me. It goes without saying that I faced a lot of controversial situations and people's thoughts and arguments – which more than disturbing me, use to waste a lot of time, coz I wanted to answer any kind of confusion amongst people. After all I was doing this project for myself yet also for them and our future in little ways.
5th – ACT & TALK – Once I was decided I was doing it, there was no looking back for me. I planned two ways of raising funds – CROWD FUNDING & COMPANY'S SPOSNORSHIP
I started with Crowd funding.
Youtube link of video of Participation in International Antarctic expedition –
I created a campaign on www.milaap.org and shared it in my closed and open groups, shared it on social media, spread a word about it. It worked amazingly well for 3 days and 4thday one negative mail from one of the person and it all came on pause. My excitement shrunk. I managed to answer each query and tried to turn the negative charge into positive, yet I didn't succeed much. The great impact of such a happening was that the time when the campaign ceased to raise funds, it managed to make me known to everyone among-st my college alumni and in social circle. More the doubts, better the word of mouth in a positive way. In fact such obstacles re energized me to act better. Work harder and believe more and more. For when the world is against you, there would definitely be someone who believes in you and even if you don't find that someone, YOU BECOME YOUR OWN HERO.
Company's Sponsorship- I created business proposal. For if companies would have sponsored me, they would do it for their benefit. I researched on about 221 companies – their CSR, their business model, their perspective towards environment. And then I created unique offering for each brand.
6th – SET A TIMELINE – I just had 5 months in total to fly to Argentina and precisely less than 4 months to raise the required funds.
Each second of those 5 months were extremely precious to me. I cancelled all my travel plans, other than necessary one's and again prioritized.
As I mentioned above I have been in a full time job, so I use to work for the Company from 9am to 5:30 pm and from 6pm to 2am with cooking and dinner break in between, I use to work for making it to Antarctica.
Month 1 – I could raise just 12% of the total amount
Month 2 – 25%
Month 3 – 48%
Month 4 – 60% – Now I told myself, I was not backing out. It was tough very tough. In that work pressure I compromised a lot of situations at personal front, but I had to prioritize. And I decided to work harder. For my personal situation I just knew one thing, when someone can understand you during such a time, he/she would understand you for the rest of your life.
Month 5 – 80% before I left for Argentina on 23rd Feb 2018
And I made it with the rest of the amount from my savings.
There were times when I felt that the road is getting tougher, yet none of the times I wanted to quit.
The Pre Antarctica journey had changed me by then and even when a low time arrived when my dream seemed to be smaller and far than reality, I chose my dream.
7th – GIVE YOUR BEST – There is one thing funny with a dreamer, we enjoy dreams with eyes open as much as the one's seen with eyes closed. In fact dreams seen with eyes open – we are constantly working on it. There is nothing bigger than destiny and there is no supplement to Smart work. Work crazily and give the best of your effort, let the time and universe decide the rest for you. For there shouldn't be any regret – IF AT ALL.
Gratefully, There were 100+ people who supported me in terms of giving time, guidance, motivation, monetary contribution and belief.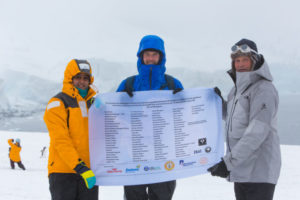 There were 6 organizations who supported me-
Dalmia Bharat Group
Red tape
Lifeline Hospital, Azamgarh
Bhargava Foundation
GII Solar India, Indore
Purvanchal Projects Pvt. Ltd., Noida
Post sleepless nights, unlimited phone calls, 220+ companies research, individual query resolutions of 1000+ people, I boarded the flight to Argentina on 23rd Feb 2018 for the most incredible journey of my life – for the travel and understanding of the Last Wilderness on Earth – Antarctica!
A journey is worth it when it is traveled along with the people who are equally happy to be associated with you.
IN THE END, IT DOES MATTER!
Shruti