Soul Travel to the Last Wilderness on Earth – Part 3 -India to Antarctica- Day 1
Day 1: 27th March 2018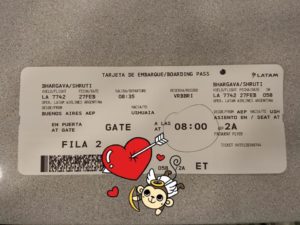 I am from Country India, Continent Asia and for the very first time on my own I was about to travel from Asia to any other continent and it was none other than the farthest continent, the seventh Continent. The day had arrived when I was supposed to reach the end of the world. This journey was right from Asia to Antarctica.
It was an early morning for me since the flight from Buenos Aires to Ushuaia, Argentina was at 8:30 am sharp and I was supposed to check in 2 hours before. That's how domestic flights are operated in Argentina. I woke up at 5 am and pushed off from the hostel I was staying in, on time at 5:30 am.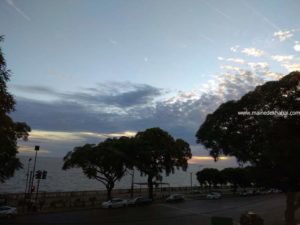 It was domestic airline of Argentina – Latam Airlines, through which I was to travel. The domestic airport AEP was right in front of an estuary, called Rio de la plata made of Teo Rivers. It looked like an ocean over which crimson color of sky was majestic to watch. The wonder of nature could be seen for more than an hour and I can mention that the time to see and experience nature in a way never before had started.
Such was the view from the plane when I was about to reach Ushuaia. Ushuaia is an area which has strong wind currents, so strong that a lot of times even flight landing takes hours. Ushuaia is a windswept town, perched on a steep hill, is surrounded by the Martial Mountains and the Beagle Channel, It's the gateway to Antarctica.
The airport of Ushuaia is one of the most scenic airport. The wind engulfing enough and chilled to the core.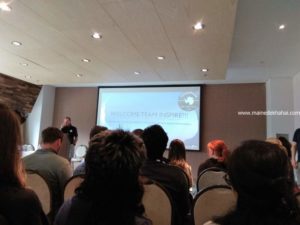 It was time to reach Arakur resort, Ushuaia and meet 89 other incredible people from across the world. It was time to see Sir Robert Swan and Barney Swan in reality. It was time to live with an amazing bunch of people for next two weeks. It was time to exchange ideas, share thoughts, acknowledge each other for things we found common in between us as humans and think about Humanity and address the steps which can be taken to save Antarctica by saving the environment we live in.
I reached Arakur resort along with 3 other fellow participants. We met at the airport and got along in a minute. Arakur resort is at the highest hill of Ushuaia and gives a view of the entire city.
Post welcome formalities, it was time to the man we all have waited for months. It was an ineffable experience to sit amongst all incredible souls and listen to the man himself, Robert Swan, the first person in the history to walk to both the poles. Since then he has been working to create awareness about Antarctica and Antarctic Treaty. He is world renowned polar explorer and speaker.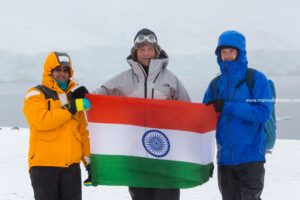 It was one of the most important days of the expedition when we had to get our gear check done, to assure that everything required from head to toe is with each one of us. As the Safety officer of the expedition – Jumper always told us- Safety, Safety and Safety.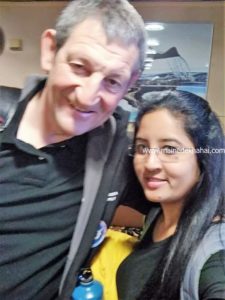 A bit about Jumper – Adrian Cross known as "Jumper" is a mountain and arctic trained ex-member of the Her Majesties British Forces. Jumper has been a key member of Robert Swan's team since 1998. An accomplished Ocean Yachtsman he was instructed to lead an eight-member strong team to sail into the Antarctica by yacht. This was to perform a photographic recognizance, to record and to survey the 1500 tons of rubbish, which Robert and his crew subsequently removed from King George Island Antarctic. Jumper and his team also photographed sixteen global warming indicator sites along the Antarctic Peninsula; UNESCO awarded him for his effort in the year 2000. Undertaking numerous expeditions into the ice alongside Robert and the team he also worked on The Circumnavigation of Africa by the organizations Yacht "2041" and its South African crew. Presently his skills are still used in the Bristol Marine Academy as a Safety & Training Consultant based in the UK. He is the finest person I have ever come across- knowledgeable, 60+ and going young, enthusiastic, careful, concerned about 100 people at the same time.
Post training on the ways we were supposed to be on the ship and during the sea life, sea sickness precautions- we explored the super breezy evening of Ushuaia and the infinite talks amongst us had started, It was 1 am of 28th Feb'18 of Argentinian Time when we pushed ourselves to hit the bed, since the next day had to have an early start.
This was the day when I met my room partner for next two weeks for the first time. I opened the door of the room and saw a guitar and before I could guess about Inch Chua, she said she's an artist. Little did I know about her in that moment? The next few days and I knew I was sharing room with one of the most unique, talented, deep and amazing personalities in the world. Inch Chua, from Singapore.
Pics above : Room with a view. And a room partner who is an artist. Some filler of civilized life and some use of internet before we sailed to a no man's land and no network zone for 2 weeks to the 7th continent , followed by morning view and night view.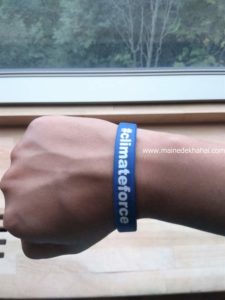 The start to the soul journey to Antarctica had begun from South America and what was in the store…. To know that there was no hurry! We were taking one step at a time and taking life as it comes. A team called #ClimateForce formed and gathered that day – ambassadors to bring positive change towards change in climate and work towards saving environment.



Shruti
My route – New Delhi, India- Dubai – Brazil – Bueos Aires, Argentina- Ushuaia, Argentina- Antarctica