I said to Mariam one of the days – "Doesn't it feel that we are suppose to be here so are we in Antarctica?"
And she said –" It looks like Antarctica chose each one of us, You, You and You to be here. "
Being in Antarctica made us feel in an extreme real sense that when a place calls, you have to answer that call and reach there. It's a mutual understanding between you and the place, an understanding of love and respect. Sometimes more than people or let's say the way people make a call, so does a place.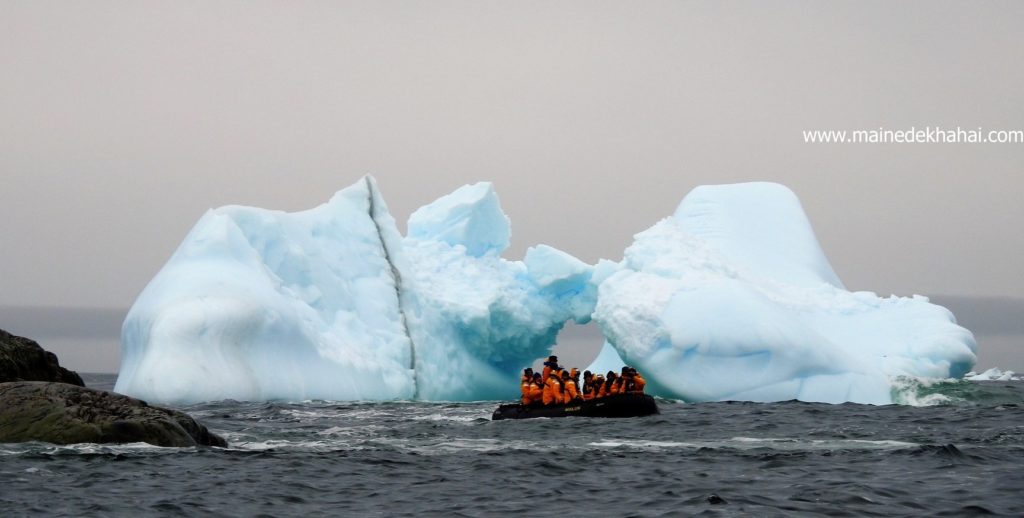 How would be a place without people? People make a place worthy or not so worthy, I had always heard. Then I got a chance to have an experience and land in a place which actually does not has people, away from culture and traditions, away from battles and algorithms. Its aloof, it's its own kind of solitude. The presence of people on that place seemed to be an interference.
Day 3 to Day 12
Soul Travel to the Last Wilderness on Earth – Part 7
On 3rd of March'18 it was the first time ever that I and we as a team were to land on one of the islands in Antarctica. It's called Detaille Island. Detaille Island is a small island off the northern end of the Arrowsmith Peninsula in Graham Land, Antarctica. From 1956 to 1959 it was home to "Base W" of the British Antarctic Survey and closed after the end of the International Geophysical Year. It is located towards the south of Antarctica Circle.
After heavenly experience of crossing the Antarctic Circle it was time to step on a part of the continent. An island known for its historical surveys, etc.
Layers, layers, layers we were told and we got ready in a 4 layered attire. That was compulsory in order to move out in the hostile climatic conditions, which was very new for us and which is known for its harshness, dryness, most hostile place on earth. With water proof and wind proof jacket and trouser on the top and bottom and mud boots under the lowers, and head covered in two layers and neck wear coming till nose, we headed out on the zodiac. I have been on a boat in ocean and this journey was on a ship in a deadly ocean, then was the time to make yourself settle in a zodiac. A zodiac which is a rubber, light weighted, gas filled boat. So then was the time to have Ocean just few inches away from us.
The moment we stepped in the zodiac, we were told about the dos, don'ts and precautions we need to take while on it. The way we should bend to take pictures and the way to get in and out of it. How each mechanics matter. How any ignorance can lead to big risk? In a way we were at risk all the time, and the risk kept us alert to be concerned of self and every one's safety.
That very moment when the zodiac ride started, as instructed both our hands were holding the rope tied around the zodiac. The cold wind touched the face and as the speed increased, it further welcomed us. In next few minutes we landed on the island. On the right side was the British Survey Station, years old and was maintained the way it was evacuated. We cleaned the base of our boots and stepped in.
Liquor bottles in Antarctica at British Station

Kitchen shelve in Antarctica at British Station

News papers and the magazines intact in Antarctica at British Station

Books as it is kept in Antarctica at British Station

Dormitory in Antarctica at British Station

Equipment room in Antarctica at British Station
Post this amazing experience picked up the Ice sticks like a child and started walking on the iced sheet.
After walking for about 300 meters, I had the first sight of penguins. A bunch of them, ignorant of human presence around. We were supposed to maintain distance with them and we did. The cute little creatures, having their good time.
Post this amazing experience picked up the Ice sticks like a child and started walking on the iced sheet.
After walking for about 300 meters, I had the first sight of penguins. A bunch of them, ignorant of human presence around. We were supposed to maintain distance with them and we did. The cute little creatures, having their good time.

Penguins Molting in Antarctica

First view of Penguins
There are several kind of Seals in Antarctica. The very first sight of a seal was of Crab eater seal. Huge, lazy bodies, shiny and glowing, a sight of another amazement. On a huge piece of ice were a group of them. Seeing them made me realize that I was in a world which is so pure and full of peace, humility and appreciation.Watch out the beauty here –

Seal resting in their way in Antarctica

Crab Eater Seal in Antarctica

School of seals in Antarctica

Crab Eater Seal in Antarctica
4th March 2018
The next day was going tougher. It was colder, hazy and windier. This day we went cruising in Southern Peninsula of Antarctica. We saw dramatic icebergs and something really unique called black ice.

Black Ice in Antarctica

The Dive of the Whale in Antarctica

The birds thriving over the whale in Antarctica

Crystal Sound's dazzling ice and experiencing the wildlife that day were the highlights
The most fascinating as well as the most troubling of all was Black Ice — thick but clear, glass-like chunks that reflected the dark waters beneath. Some of these chunks were remnants of the pre-historic ice that underlies glaciers, and their very presence on the surface was a warning of how deeply global warming had affected the region.And this was the day when we got to see humpback whales for the first time.
Whales – I had read about them in the books and had seen pictures. Was I really going to see it in real? I asked myself. Well, it wasn't easy to spot them as they are fast. The moment one of us saw it, we all went in silent zone and allowed our eyes to do the talking. Like an enthusiastic swimmer being watched, the face of the whale was seen and artistically it dived, waving the fins and the tail. The tail is what could be seen for a longer duration than the rest of the body and each movement of the whale use to make an interesting sound. During one of the sessions on whale, I got to know that whales make sound for two reasons, one is automatic while exhalation and the other is to communicate with other whales. It was an experience which was a reminder to me about the amazing ways this world has to communicate. There is no rest for whales, they were always on the move. Minus temperature of the water is their optimum climate to survive and the preservation of it, by simply not hunting them is the need of the hour, by the countries which are into this practice.

5th March –
The Berthelot Islands & Petermann Island
"I felt as though I had been dropped upon another planet or into another geologic horizon of which man had no knowledge or memory." – Antarctic aviator Admiral Richard E. Byrd in 'Alone'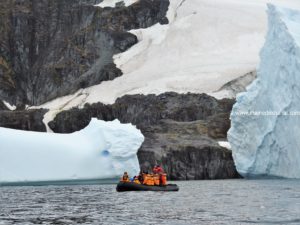 Post breakfast, we zodiac cruised to Bertholet Island. The Bertholet islands are a group of rocky islands lying 2.4 km (1.5 m) west of Point Deliverance, off the Palmer Peninsula. Discovered by the French Antarctic Expedition in 1903 under Charcot and named after Marcelin Berthlet, a prominent French chemist and benefactor of the expedition then.
Naturally these rocky areas were supposed to under ice, thick ice. But unfortunately it wasn't so. The rise in global warming could easily be seen in these areas.
Post lunch we were to reach Petermann island, which is below Lemaire Channel, south west of Hovgaard Islad in the Wilhel Archipelago. It was discovered by the Dallman Expedition in 1872 and named after August Petermann, a German Geographer and supporter of Polar exploration. This island is home to Adele Penguins (~500 breeding pairs), the most southern colony of Gentoo penguins in Antarctica (2,000 breeding pairs), and blue-eyed shags.
For me landing on this island was very special, since this happened to be having the maximum number of Penguins and here is where I happen to interact with my favorite creatures on earth – Penguins.


Mother Penguin feeding her child in Antarctica

Chinstarp Penguin in Antarctica

A curious Gentoo Penguin in interaction with me, Shruti in Antarctica

The most adorable creatures in Antarctica – Penguins!
The curiosity, cuteness, adorableness and how beautiful is being black and white I experienced on this island.
6th March –
The Yalour Islands, Port Charcot & Pléneau Bay "The wild rocks raised their lofty summits till they were lost in the clouds and the valleys lay buried in ever-lasting snow." – Captain James Cook, upon his discovery of South Georgia in 1775
We zodiac cruised to the Yalour Islands. The Yalour Islands are located east of the Argentine Islands in Penola Strait. They were discovered and named by Charcot's French Antarctic Expedition of 1903-05 in recognition of Lieutenant Jorge Yalour, an officer of the Argentine corvette the Uruguay, which came to the rescue of the ship wrecked Antarctic during the Swedish Antarctic Expedition, in November, 1903. The low-lying islands are scattered over a distance of 2.4 km (1.5 mi) and are home to over 4,200 breeding pairs of Adélie penguins, spread among 13 colonies.
The ocean with Icy layer and a ship shaped Iceberg right there around Yalour Island in Antarctica

floating Icebergs in Antarctica
Here we spotted Leopard seal highly active and just few centimeters from the Zodiac. It's considered to be nasty and dangerous. We had our way. It can be a dangerous endeavor to try to study these creatures, and in one case, leopard seals have been known to kill a human. Most recently, a marine biologist working with the British Antarctic Survey drowned after being dragged nearly 200 feet below the surface of the water by a leopard seal.
In the afternoon, we headed to Port Charcot & Pléneau Bay Port Charcot lies on the northern coast of Booth Island (previously named Wandel island). It was discovered by Jean-Baptiste Charcot in 1904 and named for his father. Charcot's crew spent the winter of 1904 in this location. Their ship, the Français, was moored here and although the men slept on board the ship, they established a shore station for scientific observations and as an emergency shelter.

The snowfall experience along with penguins in Antarctica

An Adorable view of Penguins enjoying Snowfall in Antarctica
It was surreal and beauty was at its peak. The cute innocent creatures jumping, dancing, having their time in the best way possible. It was majestic to watch them enjoying the snowfall. The temperature which was freezing for us was optimum for them.
The view was in a way weird to me because I was standing on the ice sheet and could see huge Rocky Mountains with no snow at all. It was hard to watch such condition in Antarctic Peninsula, since we as common man has never ever imagined what our deeds are resulting into. This part of the world which is far away from people has got massive effect and is under danger. If we do not wake up now to reducing pollution and population, the end isn't far.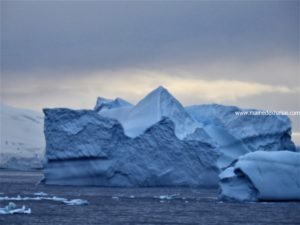 Pléneau Bay lies just south of the Lemaire Channel, separating Hovgaard Island and the Antarctic Peninsula. Here we found a iceberg garden, where both large tabular icebergs and older, rolled icebergs have run aground. Many of these icebergs have originated from as far south as the Ross Ice Shelf.

This place was one of the most majestic place we were taken on this expedition. It was so cold that the battery drained and though I had another battery, the condition of my hands didn't allow me to take that out and click much pictures. But I have most of them in my head preserved. You may google this place and see the magic that it brings.
Pleneau Bay is an incredible display put on by Mother Nature where we found an iceberg graveyard. Yes, there is such a thing as an iceberg graveyard and this bay is filled with some of the most extraordinary ice formations one can ever see.
Having made their way from the far reaches of the south of the continent, ancient chunks of flat ice and rolled icebergs have run aground to spend the rest of their days rumbling and churning in the Pleneau Bay.
7th March-
Danco Island, Neumayer Channel & Damoy Point
Danco Island lies in the southern end of the Errera Channel. It is relatively small, 1.6 km (1 mi) long, and 180 m (590 ft) high. The view from the top of Danco Island is spectacular due to the heavily crevassed glaciers in the surrounding mountains. Beautiful rolled icebergs also tend to collect in this area of the channel. Danco Island is home to approximately 1,600 breeding pairs of Gentoo penguins, which breed on the steep slopes. It was incredibly peaceful to be in this place. The sun's rays were falling on the ice and it was one of the rare days in Antarctica that the clouds were less. And hence the shimmering of the surface glowed our minds and nurtured our being.
Neumayer Channel in Antarctica

Neumayer Channel in Antarctica
In the afternoon we cruised to the Neumayer Channel. This 26km (16 mi) long and 2.4km (1.5mile) wide channel separates Anvers Island from Wiencke & Doumer Islands. It was first seen by the German Antarctic Expedition (1873-74) but was first transited by the Belgian Antarctic Expedition under de Gerlache on the Belgica (1897-99). They named it for Georg von Neuymayer a German geophysicist and advocate of Antarctic exploration. One of the most stunning passage.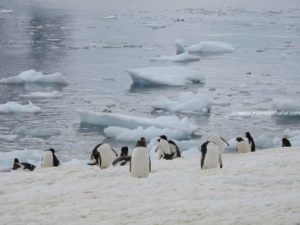 Post lunch We landed at Damo Point and zodiac cruise at Dorian Bay Damoy Point lies at the northern entrance to Port Lockroy, on the west side of Wiencke Island in the Palmer Archipelago. Dorian Bay is a cove on the northwestern side of Wiencke Island, located 0.5 mi (0.8 km) east-northeast of Damoy Point. From inner Dorian Bay, the slope rises gently from the bare, rocky landing where two huts are locate one, a well-maintained and stocked British refuge hut, the second, a small Argentine hut. A Gentoo penguin colony of approximately 1600 breeding pairs can also be found here.
We had our space and got absorbed in the beauty of the place. From watching penguins playing over the ice in the ocean in groups to having watch on the birds to being alert to step on the moss to wondering about the purpose of life to having chess time acknowledging the safe travel to posing like a penguin to admiring the incomparable beauty that Antarctica beholds to cheering this journey called Life, it has been an experience which brings in more depth in me when I discuss and talk about it with as many of you as possible.
Seeing icebergs, wildlife, witnessing rocky mountains in and around Antarctica during the Expedition was a routine for us. We use to get ready in a four layered uniform everyday.
Then came an afternoon on a day when it was suddenly announced that there's gonna be a "Polar Plunge" opportunity.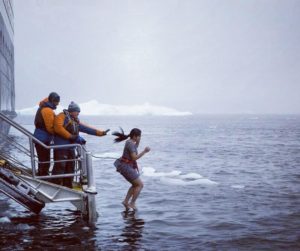 The ship was surrounded by icebergs and floating pieces of ice. The temperature was -2 degrees Celsius or less. The mind was questioning if at all it should be attempted.
The surrounding in which we were supposed to be in four layers, the same surrounding had to be experienced in a swim wear.
A plunge was to be experienced.
We were excited and nervous. We were yelling at the same time were silent. Most of us wanted to attempt this and we did it, the polar plunge in Antarctica.
Vertical plunge and 20 seconds in the Chilled Ocean.
The craziest thing ever done by me.
Another experience which made me challenge myself, which made me think over the hardships I had in life till then and the great times which came to me, this experience which made me go blank and at the same time was making me think so much. It was about few seconds, they said. Just few seconds I told myself. And then I reminded myself that if anyone stays in that water of -2 degree centigrade for 3 minutes, the person will die. So how long would I be able to stay?
It was easy to quit from making an attempt, since there was no compulsion but was an opportunity to be proud of self.
As soon as I came from the zodiac cruising and landing to the ship, I joined a group talking about taking the plunge. Some were scared and some were enthusiastic. When I was just preparing myself, many of the young team members were all ready in a swim wear and bathrobe.
Am I doing it? I asked myself. Me who had learnt swimming just 2 years ago. Me who was not scared of water but was reluctant to get out of comfort zone. Me, whom life gave a chance mostly to be brave and nothing else. So I asked myself once just once. Was I doing it? I went in my cabin, changed in a swim wear and stood in front of the mirror. "You're looking great I told myself." I took out the bathrobe and just joined in the que for my turn. Human touch often makes your doubts and fear go away. It was when I stood in the que was when I knew that everyone was going through a similar dilemma. Someone dived, someone plunged, someone did twist diving and everyone had done something unique in their own ways and had their own story. Those who did it were loud enough to say that it was best thing they have ever attempted. So listening to all the fun talks and having crazy pics, it was my turn. A rope with harness was tied on my waist and I was told where the camera man was. Honestly I was not bothered. I stepped down towards the vast Southern ocean, without looking into the camera and with a neutral mind jumped in the air to go deep in the ocean, as deep as possible, as the length of the rope allowed. The moment I was in the deep water, I just tried to come up. It was 20 seconds for me when I was in the water of minus 2 degree centigrade. When I came out all I remember was I was shivering to the core and all I have achieved with this experience is, I can conquer over anything. This confidence and that attachment that I have, since I drank the ocean water is incomparable to any other experience I had ever.
It was only when I took a hot shower did I realize I had got a cut on my leg while I was climbing up on the ship, it was deep cut, all pain was worth it .
8th March
Enterprise Island & Portal Point
"Give me this glorious ocean life, this salt-sea life, this briny, foamy life, when the sea neighs and snorts, and you breathe the very breath that the great whales respire! Let me roll around the globe, let me rock upon the sea; let me race and pant out my life, with an eternal breeze astern, and an endless sea before." – Herman Melville (1819-1891)
Enterprise Island lies at the northeastern end of Nansen Island in Wilhelmina Bay. It was charted by de Gerlache during the Belgian Antarctic Expedition in 1898, and was originally named Nansen Enterprise Island was known to whalers, who operated in this region in the early 1900's, and artifact from the whaling period can still be seen on some of the islands in this area.

Wreckage of Governoren

Burnt Rusted ship at Wreckage of Governoren
Antarctica was full of history. It was 7th March'18 morning. The day was very windy and we were somewhere around Enterprise islands, we witnessed a burnt, drowned, rusted ship called- The wreckage of the Governoren, which's lying over there since 1915. We took a round around the ship and saw the details. We didn't discuss much right there yet somewhere in our minds we compared that ship with the ship we managed to reach that point.
The history says that the ship had caught fire on one of the party days of its journey, while the ship was loaded with Whale Oil.
Today, the wreckage of the Governoren lies there, the rusting remains, leftover wooden flensing boats, and old whale oil barrels remind us of the ship's long history, and what must have been a massive economic loss and setback to the industry during its time.
Since then, the wreckage has become home to the region's Antarctic terns, providing somewhat of a symbol of the commercial and natural intersection of Antarctica's rich history. And also, possibly serving as a warning of the dangers of partying near fire aboard what was essentially an enormous steel barrel full of fuel oil!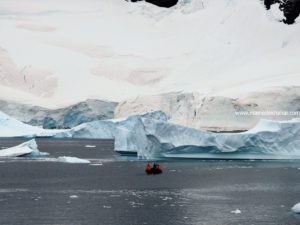 Then was the time to literally be on the continent from peninsula. We landed and zodiac cruise at Portal Point, on the continent of Antarctica! Portal Point lies at the entrance to Charlotte Bay on the Reclus Peninsula, on the west coast of Graham Land. The area offers a dramatic scenic backdrop with its mountainous landscapes, crevassed glaciers and glacial tongues that extend down to sea level.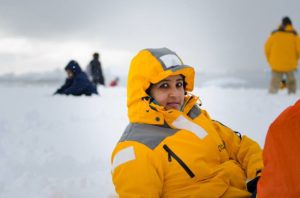 It was a day like never before in my life. I was about to step on the land which literally is of no body, where there is no one to judge anything right or wrong, which is beyond any greed and desire, which is just what it is. It was the best day of my life so far when I realized the magic of peace in a place which is free, away from all limits and rules. This picture was clicked by Generous dude Prashant, just when I was about to settle on the land of Antarctica for next 30 minutes. I rested in peace, literally.
This day we were given a post card, on which we were supposed to write letter to self and that was to be posted. The moment I woke up being in peace, the first thing I had in my mind to write the postcard and though It sounds simple, it was the most sorted time I had making my way through multiple complications in life.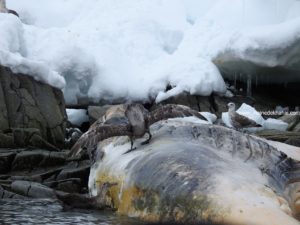 Post this we headed to an area where we found a carcass of a whale. The morning was spent seeing live play of whales and birds flying around and over them, and now we saw a dead whale, which died naturally. Now its body was a large piece of food being eaten by a lot of birds. Nature is magical and everything which happens naturally happens for good, it seemed and seems so even today.
9th March
Whaler's Bay & Half Moon Island
"Were you ever out in the Great Alone, when the moon was awful clear, And the icy mountains hemmed you in with a silence you most could hear?" – Robert W. Service, The Call of the Wild
Whalers' Bay is the first bay inside Port Foster as you pass through Neptune's Bellows at Deception Island. The flat cinder beach extends approximately 100m (330ft) inland before meeting the steep caldera wall. The buildings include the remains of the Norwegian Hektor whaling station and a British Antarctic Survey (BAS) base, which was evacuated in 1967 during an eruption. The BAS base, Station B, was a Centre for aircraft operations between 1955-57 and 1959-69.
Deception Island is an island in the South Shetland Islands archipelago, with one of the safest harbours in Antarctica. This island is the caldera of an active volcano, which seriously damaged local scientific stations in 1967 and 1969.

Only two volcanoes in Antarctica are active. There is Mount Erebus, which is roughly due south of New Zealand, and Deception Island, which lies about 850km south east of Cape Horn. Mt Erebus has been erupting continuously over the last few decades.
This place was mix of Lake, mountain, volcano and ocean beach, where the fur seals were having a great time. It was picturesque and awakening.

The last landing was to Half Moon Island. It lies in the entrance to Moon Bay, between Livingsto and Greenwich Islands. The 2km (1.2mi) long island is crescent-shaped and home to approximately 3,300 breeding pairs of chinstrap penguins. Antarctic terns, skuas, kelp gulls, Wilson's storm petrels and blue-eyed shags also breed at this site. The Argentine station, Camara, is located on the southwest side of the island.
Walking along with Chinstrap Penguins was an interesting experience. The adorable creatures walking and climbing the stony mountains were amazing. On the other side was a school of Fur seals, loving, fighting, taking care of each other and responding to our presence.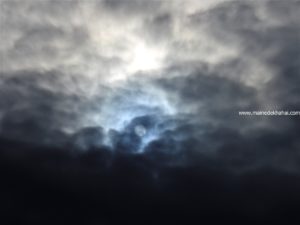 An amazing Sunset was seen that day. And before we reached the ship, various whales showed their presence. The experience of which was scary adorable, artistic, adventurous and nature driven.






10th March
The Drake Passage
"I find the greatest thing in this world is not so much where we stand, as is which direction we are moving. To reach the port of heaven, we must sail sometimes with the wind and sometimes against it, but we must sail, and not drift, nor lie at anchor." – Oliver Wendell Holmes.
It was time to head back to the ship and sail through the Drake Passage again. Now we were used to the movements of the sea yet as a ceremony we prayed to Lord Neptune to keep us, ship safe and ocean calm and the prayer did work.
On the way we passed through Cape Horn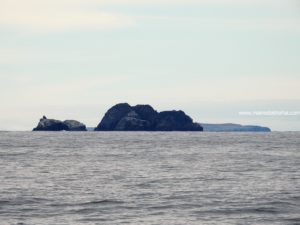 Rounding Cape Horn :-
"A journey is a person in itself, no two are alike. And all plans, safeguards, policies, and coercion are fruitless. We find after years of struggle that we do not take a trip; a trip takes us." – John Steinbeck
It was nostalgic for each sailor on the ship since this patch had taken many lives in past.
Cape Horn is a rocky headland on Hornos Island, in southern Chile's Tierra del Fuego archipelago. It's surrounded by wild seas off the southern tip of South America where the Pacific and Atlantic oceans meet. The albatross-shaped Cape Horn Monument commemorates the lives of thousands of seafarers who perished attempting to sail around the cape. A secluded lighthouse and the tiny Stella-Maris Chapel are nearby.
With a bunch of Albatross dancing watch over the ocean, we sailed through the Cape Horn.

Next two days we sailed in the sea and reach Ushuaia on 12th March morning, Argentina Time.
I have always believed that Nature is the best teacher. If today we see the land where there are no humans and there are only animals we humans would realize what a curse we are becoming to this world. Animals and birds still behave in a natural way. We humans on the other hand have become greedy over time and never satisfied which leads us to fish out Krills even from Southern Ocean. It's not really a great deal.
When I got back to India, someone asked me:- "You had a wonderful experience which is rare of even 1% of the people around the world. Would you like to go to Antarctica again?" Without thinking for a second I told him that I have been fortunate enough to experience this pristine place but No, I would not like to go there again, since there is this part of the world which does not belong to us and we must understand that how critical it is to protect this beauty and preserve it from any kind of interference.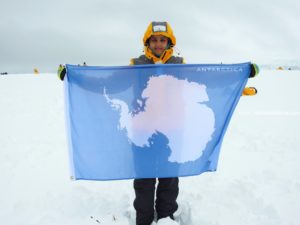 Antarctica was never my dream destination, neither was it in any of my itinerary. I could make it to this place because I wanted to experience the reality around and share with everyone at large. Thank you for making it this far.
Antarctica has changed something in me deeply. I am not the same person anymore. I am glad to take all the challenges which came in my way to make me who I am today, but most importantly I am closer to Nature now and Antarctica resides in me. When you see me, you will always see Antarctica.
Thanks for making till here.
Please do share your feedback and comments. Would be glad to know what all would you want to know more.
Much Love.
Shruti