Dubai is one of the most visually alluring, staggeringly diverse, and distinctly modern cities in the Middle East. So heading to Dubai for the first time? Be prepared for a holiday of a lifetime! To make your Dubai trip planning easier, we've pulled together some of the top things to do in Dubai which you shouldn't miss on your debut holiday.
Enjoy a day at Downtown Dubai
From the stunning Dubai Marina and the timeless Jumeirah to the trendiest ever La Mer and Bluewaters Island, Dubai is rife with stylish neighborhoods. And unmissable among them, especially on your first time in Dubai, is Downtown Dubai. After all, it is home to some of Dubai's most celebrated landmarks and we've picked out the best three of them here.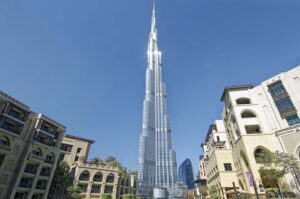 Burj Khalifa: At a piercing height of 828 meters, it's the world's tallest man-made structure. But, beyond that, it's where you can get the best views over Dubai's cityscape, desert and ocean from its observation deck on 124th floor. You can take your sky-high sightseeing to next level by taking to its 148th floor with the world's highest observation deck (at 555 meters high).
The Dubai Mall: The biggest of its kind mall is the epicenter of shopping, fun, thrill, entertainment, and of course everything you could imagine. Just allow yourself a lot of time to explore its 1200 plus shops, several dining options, and world-class attractions that are ideal for all abilities and age categories. Come face to face with over 33,000 lively marine creatures at the gigantic Dubai Aquarium and Underwater Zoo, let your little ones have some fun-filled edutainment moments at KidZania, enjoy a twirl at Dubai Ice Rink, and set out for a gaming experience like no other within VR (Virtual Reality) Park, among others.
The Dubai Fountain: Held against the backdrop of the Dubai Mall and Burj Khalifa, its highlight is a resplendently choreographed show wherein water sprouts out in sync to the mindblowing western or Arabic music. The water reaches up to 500 feet during the show, making it the highest of its kind in the world.
Take an art walk along Al Bastakiya Quarter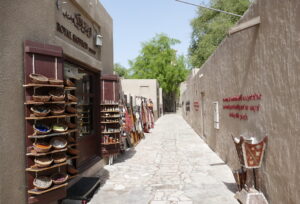 Culture, traditions and history are in full gear at Al Bastakiya, also known as the Al Fahidi Historical Neighborhood. This well-preserved Dubai enclave is more like a living museum which gives you a genuine sense and spirit of Dubai's past. There are down-to-earth structures from a bygone era and most of them are now turned into museums or art galleries. Visit Dubai Museum housed inside the region's oldest of its kind Al Fahidi Fort and further enlighten yourself about the Emirati culture and Islamic religion as you step into SMCCU (Sheikh Mohammed Bin Rashid Al Maktoum Centre for Cultural Understanding). More sights await you here in the form of Arabian Tea House and Majlis Gallery.
Experience Desert Safari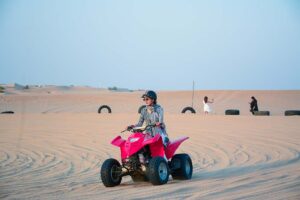 It's easy to fall for Dubai's jaw-dropping modern sights, but don't overlook its raw and untouched desert landscape, just about 30 to 40 minutes away. Take a Dubai desert safari which is definite to enthrall you with a spell of fresh air and cool respite from glamorous attractions. This allows you to wend your way through the low and high sand dunes on an electrifying 4X4 desert drive. Add to these more desert-inspired activities like camel ride, sandboarding, and quad biking. From henna tattooing and Shisha smoking to falconry, Tanura and belly dance show, you'll get to round out this off-the-beaten tour with many activities and experiences that recall the fascinating Bedouin past and culture.
Check out traditional souks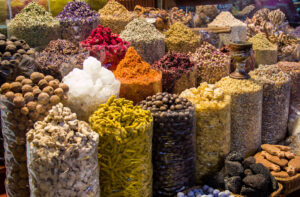 Once in Dubai, you'll find a massive mall or an all-inclusive shopping center at its every turn. But, for some unique Arabian souvenirs and awesome shopping bargains, Dubai's traditional bazaars, locally known as souks, are unbeatable. Found in Bur Dubai and Deira regions, these souks indulge your senses with its veritable blend of shopping, dining, and leisure options. Visit Textile Souk, Perfume Souk, Spice Souk, and most importantly, the Gold Souk which is absolutely dedicated to selling jewelry made of gold as well as other precious metals.
Relax at Dubai Creek Park
Dubai may be a desert city, but it has enough of greenery and cool spots to unwind or hangout. One of the most visited in this category is Dubai Creek Park. It's super picturesque and spans over 95 hectares of land. You can enter this massive park via through one of its five gates and admission fee won't cost you more than AED 5 per person. It allows you to access its amazing picnic areas, BBQ sections, and a variety of kid-specific play areas, rides, games etc. However, you'll have to pay additional charges if you wish to experience other attractions that park hosts, mainly Dubai Dolphinarium, bike rental, and cable car ride.
Watch an exciting show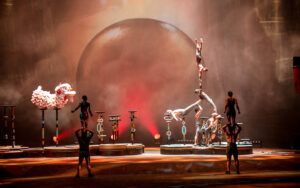 Dubai is not just all about its striking architecture, historical quarters, verdant parks, and charming desert; it's also the place where you can enjoy fantastical shows and events. To watch one, you can head to Dubai Opera in Downtown Dubai, with year-round performances including operas, ballets, and other shows. As shows keep changing here, make sure that you pre-book your show tickets to avoid any disappointment. Moreover, there is the breathtaking La Perle by Dragone which you can watch any part of the year. Conducted at the purpose-built aquatic stage within Al Habtoor City's Atrium, this Cirque du Soleil style show puts up an astonishing display, thanks to its right mix of brilliant talents, impressive choreography, perfect music, and cutting-edge techniques.
Admire the night city skyline on a dhow cruise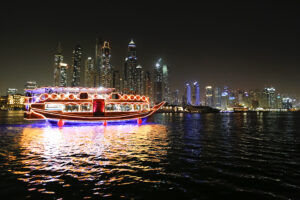 One of the best ways to witness Dubai's sights is from water. And you can get this right on your first trip with a memorable dhow cruise at Dubai Creek or Dubai Marina. More than stunning views, a sail aboard this traditional vessel will give you an inside scoop of Dubai's humble past as it was once used for pearl farming and fishing (before the oil boom in the region). This approximately two-hour cruise is further complete with buffet dining, traditional entertainment, and live music.
Strike a pose in front of Burj Al Arab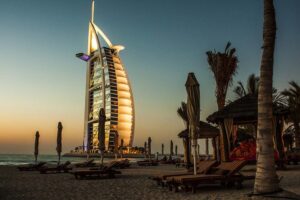 A selfie or groupie with Burj Al Arab in the background is an absolute must-do during your inaugural Dubai visit. Opened in the late 1990s, this sail-shaped structure is one of the globally acclaimed icons, being the world's only seven-star luxury hotel. Forget about staying here if you're on a strict budget. That said, you can definitely glimpse into its extravagant décor and imperial interiors via a culinary tour at one of its posh dining venues.
Tour Palm Jumeirah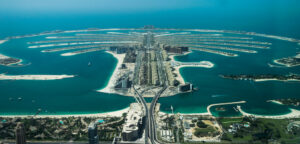 Shaped like a giant palm tree with a crescent on its top, this man-made island is one of Dubai's symbols and hence needs no introduction (literally). Take a monorail ride, hire a supercar, or opt for an exclusive guided excursion or a helicopter sightseeing ride to take in its majestic sights.
Get out on Dubai's waters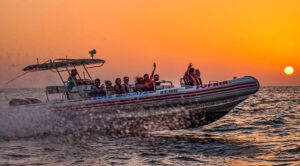 No trip to Dubai is complete without taking to its exuberant waters along Persian Gulf. Whether you're seeking an outing in a relaxed environment or want to get high with an exhilarating water adventure, Dubai's marvelous beaches and pristine waters offer limitless options to enjoy your favorite aquatic activities. Witness the city coastline from a different side on a thrilling jet-ski / parasailing adventure or have frolic fun and thrill with your family or whole group by taking a banana boat ride. Looking for a thrilling yet passive adventure? Sign up for a session of kayaking or scuba diving.
Ride Dubai Metro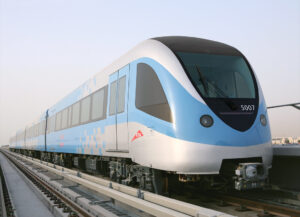 Dubai Metro is not only an inevitable part of the city's well-integrated transport system, but also one of the prime tourist attractions in Dubai. So even if you've only a day or two to discover the emirate, be sure to incorporate this experience on your first Dubai trip. It's swift, spotless, and most of all, the world's longest fully automated metro. But, if you don't have plans to use Dubai Metro extensively, a red NOL (smart payment card) would be enough for your brief metro ride.
Definitely, don't miss Dubai's theme parks
Last but certainly not the least, don't miss the city's first-rate theme parks! Be it for fun, thrill or amusement, this should be top on your list of Dubai things to do. Go to the snow-themed Ski Dubai (to try all your favorite winter activities), experience one of the world's biggest indoor theme parks at IMG Worlds of Adventure, or choose to spend a full day at Dubai Parks and Resorts with a total of four theme parks (such as Motiongate Dubai, Bollywood Parks Dubai, LEGOLAND Dubai, and LEGOLAND Water Park.)
With a fantastic blend of inspiring culture, modest history, unrivaled modernity, vibrant nightlife and ample entertainment choices, Dubai accurately has everything to make you feel right at home. All you've to do is to allocate yourself some time or alternatively get an expert help to create a perfect Dubai program enriched with your favorite activities and experiences, so that you'll be able to make the most of available limited time in this marvelous city.