28 Apr 2017
Begum Jaan – Review
Begum Jaan –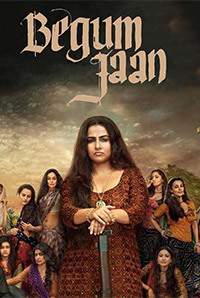 The mere trailer of the movie and just two dialogues had urged me to watch Begum Jaan.
The very first scene of the movie will make you wonder, for why is that scene there! You would remember Nirbhaya incident and wonder what next! At that very moment the appearance of an old lady and what she does to save the girl from the thrash of the drunken men with wrong intentions, would hold your heart. What I as a viewer was surprised was about the reaction of the boys, who wanted to rape a young girl but couldn't see an old lady stripping. Ideally it shouldn't be surprising, but the kind of incidents which have been happening around where few months old girl or a 80+ year old woman is considered a mere thing to be used, molested, broken apart and walk away by a kind of men in the society who have got audacity to think that cruel made me wonder that there exist a kind of men for whom at least age matter !! ?
Begum Jaan is a remake of a bengalii Movie Rajharini.
It is one of the bold movies, which talks about the India and its sufferings which were when it got freedom from British rule and was divided.
It talks about India which is today free yet has all possible kind of limits for women.
It not only talks about Prostitution; it also talks about the right that a woman has to be a prostitute by profession, and the choice she can make for her personal life. It is only and only her right to decide what she wants to do with her body, which unfortunately the society we live in and this large part of Indian society at least, do not understand.
It talks about self respect.
The direction of the movie is weak and at times, the screenplay gets diluted.
The movie has a heavy after effects on the mind. The regret and repenting acts of the men, characterized as representatives of BIG Political parties is saddening. The strange part is that those characters only decide to get the females killed by a murderer and they themselves couldn't bear the brunt. Super weak plot.
Ila Arun is a story teller in the movie and Vidya Balan of course has the lead role. Other than rest 10 females in the movie, the role of Surjeet (Pitobash Tripathi) holds lot of importance. The way Surjeet lives selflessly, loves unconditionally, saves women lives with cheer bravery and the art through which he makes other laugh and makes this world a better place to live in, is truly appreciable.
Bold story + Diluted Plot+ Weak Direction + With attempt to give Strong message to the society about Women & Rape = Begum Jaan.