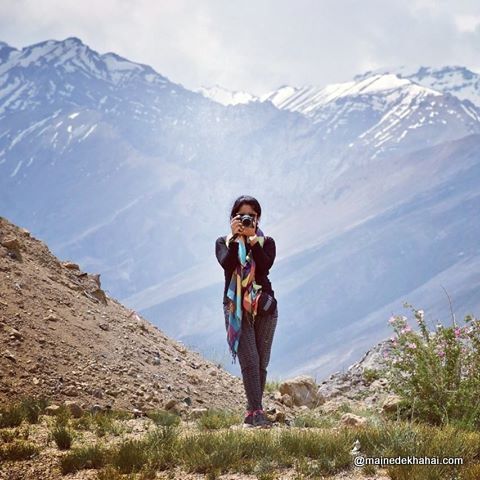 I am one of you. I am a dreamer.
As my memory can gather the first time I travelled out of the city I was born in and the memory of which is still fresh in my mind was Darjeeling, at the age of 3 years. I was blessed at that age and travelled with my travel enthusiast aunt. We walked around the place and explored the local market area. I remember the first horse ride of my life I had, been then. We had bought decorative things for our house; specially the one I remember is the hand – made painting on black cloth which the locals make. It is still one of our memory refreshers. We also got a saree, for my grandmother –a red and a yellow combination one, as beautiful as she was. We do not have even one picture of the trip. Sometimes I wonder why was it so, may be because we were living in that moment only and carrying a camera wasn't a priority. But human mind is magical; it's the things and the people and talks you have to keep the memories fresh.
I didn't know that time as a kid that a time would arrive when I would have this passion of exploring people and places. I have been travelling for a decade now – to small, big, far and nearby places. I believe that each place has its own charm; be it in your own country or in a far away land. Even the house next door, is an experience in itself of people and the way it has been maintained. I crave to travel and I guess the words like stagnation and settlement are out of my dictionary. Nature is my God and travel is my motivation to grow each day as a person.
During late 1980's there was no Google to find out designs and the imagination was the only tool to create a piece of art on the paper. As a Kid, I use to be prepared with all art work on time because I was under guidance of such family members. It was when I was in 8th Standard when in Arts exam I was supposed to create a piece of landscape; I created a piece on which I got 100 marks out of 100. That motivated me so much that an interest in art and creating my own imagination arose and it is still alive.
Hence Maine Dekha Hai has the section on Paintings.
I had read a book named 'The Ultimate Gift' by Jim Stovall; which was suggested by the person who helped me shape by career, in my late teen age. The very first poem which I have named 'The Ultimate Gift' got crafted because of that book. There was no social network that time, which could have helped in knowing otherwise, in minutes if what one has been writing was good enough. Instead I got a chance to be a speaker in a youth gathering of National Cadet Corps Camp, where there were thousands of youth of my own age who were the audience – this became my platform of letting the small, tiny part of the world knows, about how I think. And, this I can mention here as the phase of life to bring out the best of poetic thoughts in me.
Eudora Welty quote – 'A good snapshot keeps a moment from running away' is the secret I feel to be motivated enough all the time to look out for beauty in every bit and frame in best way possible. Life is so damn beautiful and so is nature and so are people, thoughts, conversations, beings with wordless and just expressions and everything around.
I believe in chasing true happiness and putting efforts with minimal expectations, yet having a defined goal and focused approach to attain it. Focus on positives and hopes gives us so much time and strength to live and engage with things around with love and more involvement.
I am an MBA in Marketing and have an experience in Media & Advertising industry. I have worked with the dynamic ways a Radio station works and the youth energy driving it to each ear in the cities. I have worked with Television and have been a part of behind the scenes and real hard work that goes in bringing the best of views live on Television screens. I have worked with a leading newspaper of India and knowing how the first documented media of the country (Print) use to work and which still has been creating a difference in our lives, have been really interesting. Digital platform getting emerged is the next media of consumption across the world and I have been fortunate enough to know and work on it too.
As much as I love colors, I like mismatch clothes and accessories. As much as I like reading non fiction novels, I like fiction as much. Painting with colors is versatile to me, a sketch with just a pencil creates deep involvement for me. Beaches, mountains, deserts, snow land – Any natural place is equally attractive to me. I am a blend of a small city simple person with a metro city centric approaches and challenges. Expect all kind of stuff on this web page.
'Maine Dekha Hai' is about dreams and realities.
It is about fun and formalities.

It is about creative stuff and being amateur.
It is about making mistakes and always learning more.

It is about being silly and comical.
It is about having vision and craze, exceptional.

It is about travelling places and in people's life and culture.
It is about first having a travel within… and then going further.

It is about having a good snapshot and keeping the moment from running away.
It is about playing with colors and putting a shape to our wide imagination every day.

It is about the poet in you and the reason for why you should keep him alive within.
It is about brief and deep experiences coming from the usual, happiest moment and weirdest pain.

It is about you & It is about me.
It is about everyone who lives their dream.